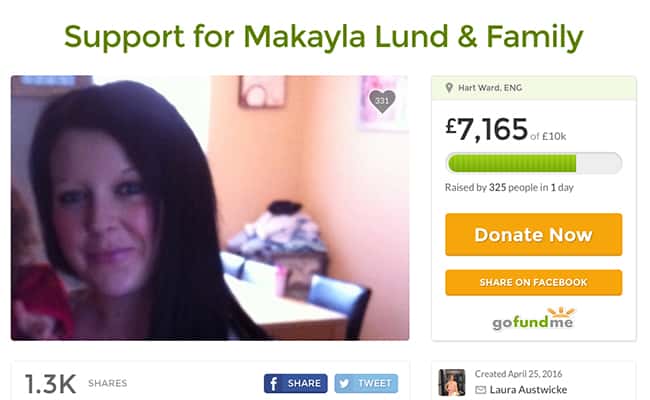 A fundraising page set up for a mother and son in intensive care after a crash which claimed three members of the same family has raised nearly £7,000. 
The Go Fund Me page was set up by Laura Austwicke in the wake of the tragedy which killed Hartlepool man John Crompton, 31, his son Morgan Lund, nine, and his four-year-old daughter Evie-Lily Crompton. 
The proceeds raised by the fund are to be given to Makayla Lund, 25, John's partner and mother to the two deceased children. Ms Lund is still in intensive care in hospital along with the couples youngest son Kyle, two, who remains in a seriously ill condition. 
Laura Austwicke set up the fund to help support the recovery of the recently bereaved family members.
She said: "Makayla and John's family would like to thank everyone for their continuing kind words and support.
"Please keep praying for Makayla and baby Kyle's recovery. We are aware that there is another page set up in Euros. However, we have set one up in the UK for those wanting to donate in GBP."
A statement released from John's family said their lives had been "torn apart" by the incident and "will never be the same again". 
The devastating tragedy occurred on Sunday morning just after 7am on the A39 near Beaurepaire-en-Bresse between Lyon and Dijon, in Southern France, when the family's Nissan hit a safety barrier and was split in two by the impact. 
The two children are thought to have been thrown from the vehicle, while Mr Crompton, who was driving the vehicle, suffered a fatal heart attack after being removed from the wreckage. Pictures from the scene show a badly mangled wreckage with debris strewn across the road. 
It is not yet known what caused the crash but an investigator told the France3 TV channel it may have been down to the driver falling asleep or being distracted.
Cleveland Police are assisting French authorities with their inquiries into the collision while specially trained officers in the family's home town are assisting relatives. 
Tributes left on a Facebook page for Hartlepool Billiards and Snooker, of which Mr Crompton was a keen and respected member, have flooded in. 
Ricky Doak wrote on the page: "Terrible news, I could not believe it was John and family involved in this accident.What a lovely guy, well-like(d) and respected. My thoughts and prayers go out to his family and friends."
Jeff Dickson wrote on the club's Facebook page: "A man who held the same things in life close to his heart as I do. Family, Hartlepool United and a game of snooker and billiards with his mates down the club on a Monday and Wednesday night. So so sad this, just hope his missus and bairn pull through for him. God bless big guy. Pot a few long uns up there."
If you would like to donate, click here.