The North East of England can be a surprisingly beautiful place, if you know where to look. It's full of hidden gems and breath-taking scenery.
From bustling city streets with incredible architecture, to peaceful pockets of local heritage, there is beauty in every corner of the North East. If you think 'It's grim up North', you might want to think again.
1. The Marina, Roker
The perfect place to enjoy some tea and cake and clear your mind. The marina offers stunning views out to sea, while you can enjoy an afternoon snack in the Snow Goose café, placed right on the marina itself. Sunderland local, Joy Rumney, 69, said: "It's one of my favourite places to come for a cup of coffee with my husband. It's so quiet and peaceful. We love just sitting and watching the boats and the birds coming in and out of the dock."
2. Finchale Abbey
Situated alongside the river Wear, Finchale Priory, or Finchale Abbey as it's more locally known, is the perfect spot for a picnic, or a stroll along the river. The site not only offers amazing views and picture opportunities, but plenty of local history about the 13th Century Benedictine priory.
3. Seaburn Beach
Living by the cast is not something locals should take for granted, but when the beach is on your doorstep, it's easy to do. However, Angela Hinchley, 44, who recently moved to Sunderland from the city of Cardiff said: "It's so nice to be so close to the beach, the closest beach from our last home was over an hour away. Not many places in the UK have such amazing coastlines."
4. Herrington Park
Herrington Country Park is one of the largest parks in Sunderland, and is home to many popular local events such as the Sunderland Festival and annual Race for Life. With an adventure play park for little ones, bike trails and a spot of local mining history it's the perfect place to spend a summer afternoon out.
5. Penshaw Monument
Enjoy a walk up Penshaw Monument to enjoy local history and some peace and quiet. Built in 1844, the 70 foot landmark offers breath-taking views for miles. If climbing the hill wasn't enough, through summer you can also climb the spiral staircase to the top of the monument, with views guaranteed to get a perfect picture. Local photographer Daniel Stark, 20, said: "It's one of my most favourite places to shoot, I always get amazing shots from the top of that hill. The landscape shots always come out brilliant, especially at sunset when the sky is pink – it's stunning."
6. The Secret Garden, Doxford
A true Secret Garden, this is a peaceful place of tranquility for only those who know. The relaxing surroundings are like something out of a movie – it's not hard to imagine fairies dancing among the many flowers, or playing in the stream. The perfect place for an afternoon dog walk, while little ones can explore and make their own adventures in the fairy-tale like gardens.
7. Grey Street, Newcastle
In the bustling city of Newcastle, it's easy to forget to take in your surroundings, however Grey Street was voted as one of the best streets in Britain. Not only does it offer some of the best bars and shops in the city, but the street is filled with amazing buildings and architecture that are centuries old. The stunning street, topped by the famous Grey's Monument is a popular spot for tourists from all over the world.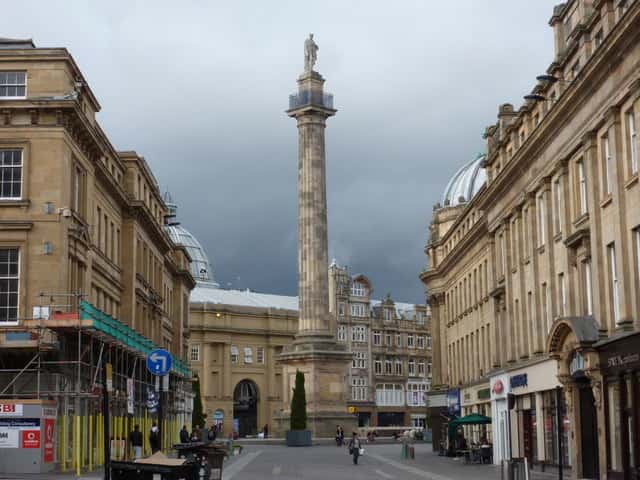 8. WW1 Soldier Sculpture, Seaham
The 9ft 5ins Tommy is something you cannot miss along Seaham seafront. The metal sculpture, created by artist Ray Lonsdale was installed as a memorial to mark of the start of the Great War. Attracting visitors from miles around, Tommy is intended to represent Post Traumatic Stress Disorder which many soldiers experience, after returning from war.
9. Jesmond Dene Park
A 'unique heaven' for the people of the North East, Jesmond Dene runs for three kilometres alongside the river Ouseburn, under a canopy of native and exotic trees. The natural corridor is home to a variety of wildlife from small animals, birds and insects, you're bound to see something beautiful and interesting.
10. High Bridge Street, Newcsatle
One of the quirkiest places in Newcastle, High Bridge Street is a short cobbled street lined with off-the-wall shops, bars and restaurants. Wish comedy clubs, vintage shops and gin bars there's definitely something for everyone in this unique street.