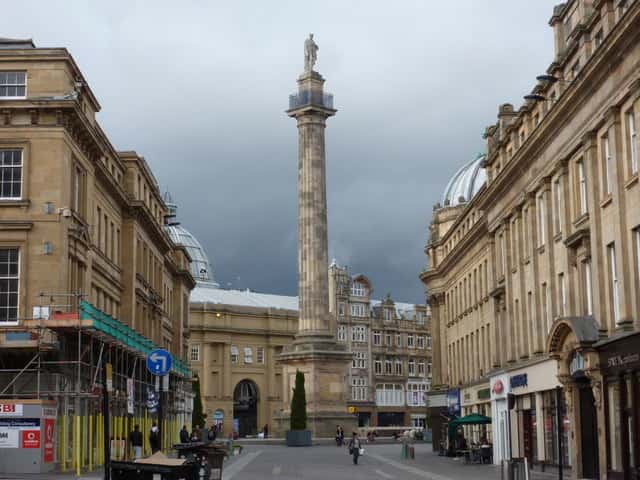 An openly fascist group, who protested in Newcastle, has claimed that 'Adolf Hitler was right' when it came to views on immigration.
National Action, a self confessed 'radical' group, recently held a protest in Newcastle at the Charles Grey Monument and attracted wide criticism, mainly for their banner that said #HitlerWasRight.
Benjamin Raymond, 26, who is spokesman for the group, said: "The aim for the protest in Newcastle was to establish ourselves in the region."
When asked what the group's message was, Mr Raymond said: "The rape of Europe is unacceptable.
"We want the right wing to embrace National Socialism."
Regarding the #HitlerWasRight banner, Mr Raymond, who has been interviewed previously by the BBC, said: "Hitler was right to express in three words our condemnation of everything wrong with the world.
"In the context of the refugee crisis, he was right to say that white western civilisation was worthy of defence, and Adolf Hitler was western civilisation."
There has also been video footage of one of the National Action members pushing a busker who was using a saxophone to attempt to drown out the group's speech.
Regarding the incident, Mr Raymond said: "We object to the narrative that our activist had initiated a confrontation with the so called busker.
"The vile Bolshevik animal with the trumpet was threatening to breach a public order and was assaulting members with the public with his horrid noise.
"The courageous and selfless act of our activist successfully and quickly diffused the situation without any further action."
Markus Johnstone, 23, a spokesman for North East Anti Fascists, said: "The busker was there legally, I believe. They were there being provocative and therefore the busker was doing nothing wrong.
"Unfortunately, Neo-Nazi groups in the UK do exist. However, in the North East, where we are generally quite a diverse group, coming from multiple backgrounds, they won't make grounds.
"There are a larger amount of groups. However, the overall far-right seems to be shrinking.
"With the implosion of the EDL, everyone seems to have joined a splinter group, who seem to always be attacking other splinter groups. However, the return of openly Nazi Groups is disturbing."