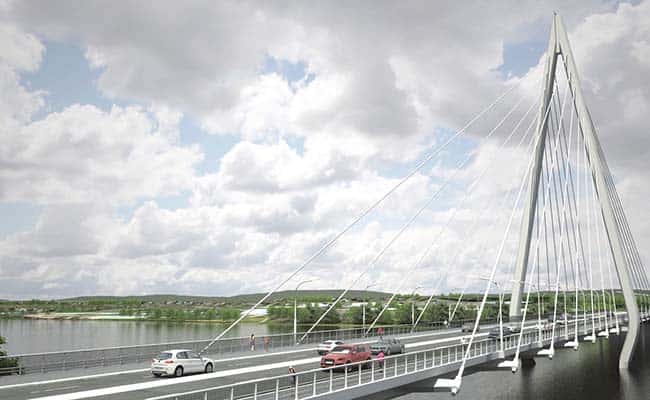 Sunderland shop workers at Hylton Retail Park have backed the building work of the £117.6 million New Wear Crossing as a positive move for drivers.
However, they have also said they are worried that customers could be deterred from shopping due to year-long roadworks and closures affecting access from Wessington Way.
The city's first bridge for 40 years will link Hylton Retail Park to Pallion Retail Park.
Retail assistant Stephen Jackson, who works at Poundstretcher at Hylton Retail Park, said: "Not many people know we are here anyway, but the new bridge would bring in more customers."
Although Mr Jackson welcomes the new bridge, he said it will link too many similar stores on either side of the river closer together and they will end up competing for customers.
Stephen McCaffrey, project director with FVB JV, the partnership set up by Farrans Construction and Victor Buyck Steel Construction to build the bridge, said: "[We] will try to keep disruption to a minimum and will aim to have both lanes open again at the earliest opportunity."
Photos: John William Ridley. 
A section of Timber Beach Road will be permanently closed from Monday, February 1, leaving three other access roads leading to the Hylton Retail Park.
The new bridge will link to the A1 and A19, and it is hoped to bring new investment and more jobs into Sunderland.
Shop assistant Doreen Smith, who works at Pets at Home at Hylton Retail Park, said: "It's a good idea. Another way in, another way out. And some people can't travel certain ways, so it takes a lot of pressure off the other side of Sunderland.
"The city council are improving the traffic all the time."
Sunderland City Council have invested £35.1m in the New Wear Crossing project, with a government grant of £82.5m.
The bridge will be as twice as high as the Gateshead Millennium Bridge, and 10 metres higher than Big Ben.