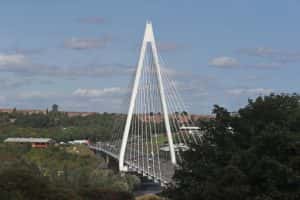 The first case of COVID-19 in Sunderland was confirmed a year ago today.
The Sunderland resident who tested positive for coronavirus was taken to South Tyneside District Hospital for treatment. At the time just over 320 cases of the virus had been found in the UK.
Since then, 20,986 cases of COVID have been found in the City and 808 people have died. Over 3,000 people have been cared for with the disease in Sunderland and South Tyneside hospitals. 
Ken Bremner, Chief Executive of South Tyneside and Sunderland NHS Foundation Trust, said: "The last 12 months have undoubtedly presented us with some of the biggest challenges ever faced in the history of the NHS. From admitting our first COVID patient a year ago, to treating the thousands of patients that were to follow, it has been a momentous effort from everyone at the Trust and our wider NHS colleagues. 
"Despite the challenges, our hospital teams, community services and support functions have always strived to do the absolute best for all of our patients and provide safe and high quality care to those who need it most.
"I am immensely proud to work alongside such a fantastic team at South Tyneside and Sunderland NHS Foundation Trust and would like to thank each and every one of my colleagues for everything they have done and continue to do."
Timeline of how the coronavirus pandemic has developed since the first case in Sunderland was found
The number of COVID cases in Sunderland has fallen 34% in the last seven days, to 317.
Leader of Sunderland City Council, Councillor Graeme Miller said: "We have all seen our lives change in ways that would have seemed unimaginable 12 months ago. But we have also seen our city's tremendous strength of community spirit shine through these darkest of times with countless acts of kindness and heroic selflessness."
He added: "I'd like to thank everyone in our city for everything they've done so far to get infection rates down but also remind them that it's essential that each and every one of us continues to follow the guidance if we are to get infection rates down to the level needed to meet the criteria set out in the Government's roadmap for easing the current lockdown restrictions".
School students returned to classrooms on Monday in the first stage of lockdown easing.