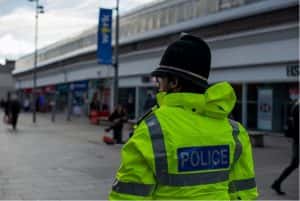 A SENIOR officer has praised an off-duty detective who bravely detained a suspected shoplifter accused of threatening staff with a knife.
Shortly after 3pm on Saturday (November 7) police were alerted to a disturbance in Sunderland city centre.
It was reported that a shopper had stolen items from Poundland on High Street West and had subsequently been confronted by security staff.
The offender is then alleged to have pulled out a knife and made threats towards staff, before making off on foot.
But an off-duty Detective Constable who witnessed the incident was on hand to bravely chase after the suspect and detain him until officers arrived at the scene.
Detective Chief Inspector Michelle Robson has heaped praise on the officer involved who put the public's safety above his own in a bid to apprehend the suspect.
"This is a fantastic example of an officer going above and beyond to protect the communities we serve," Det Ch Insp Robson said.
"The detective involved was not at work and was enjoying a well-earned day off – but his dedication shone through after seeing a crime take place and the suspect making off.
"He did so not knowing whether the suspect was in possession of a knife or not – which makes his bravery even more commendable.
"Our officers come into work knowing they could be faced with dangerous and difficult situations, and clearly putting the public's safety before their own is paramount.
"However, I would like to personally thank the detective involved for his outstanding and admirable actions while off-duty.
"It fills me with pride to know that we have officers like him working in the Force who show such determination and professionalism, even when not on shift, to ensure Sunderland remains a safe place to live and work."
A 43-year-old man was arrested and has since been charged with theft and possessing a pointed article. He is due to appear in court next month.
Northumbria Police are proudly supporting a national week of action geared at tackling knife crime and the devastating harm it can cause.
Police forces across the country are taking part in Operation Sceptre in a combined and coordinated effort to clamp down on knife crime.
The operation will see a range of targeted activity across the North-east, from extra patrols to pursuing known offenders. We are also tackling the illegal importation and distribution of weapons, as well as educating youngsters about the dangers.
If you have information about someone who is in possession of a prohibited weapon, or want to report any suspicious activity, please get in touch with us using the Tell Us Something page on our website or call 101.