Search 'US Election 2020' to see all our coverage
PERSONAL OPINION
Masters Journalism student Alethea Farline highlights some uncomfortable truths about the US and its polarised presidential politics – and warns the Left against its moral-high-ground narrative.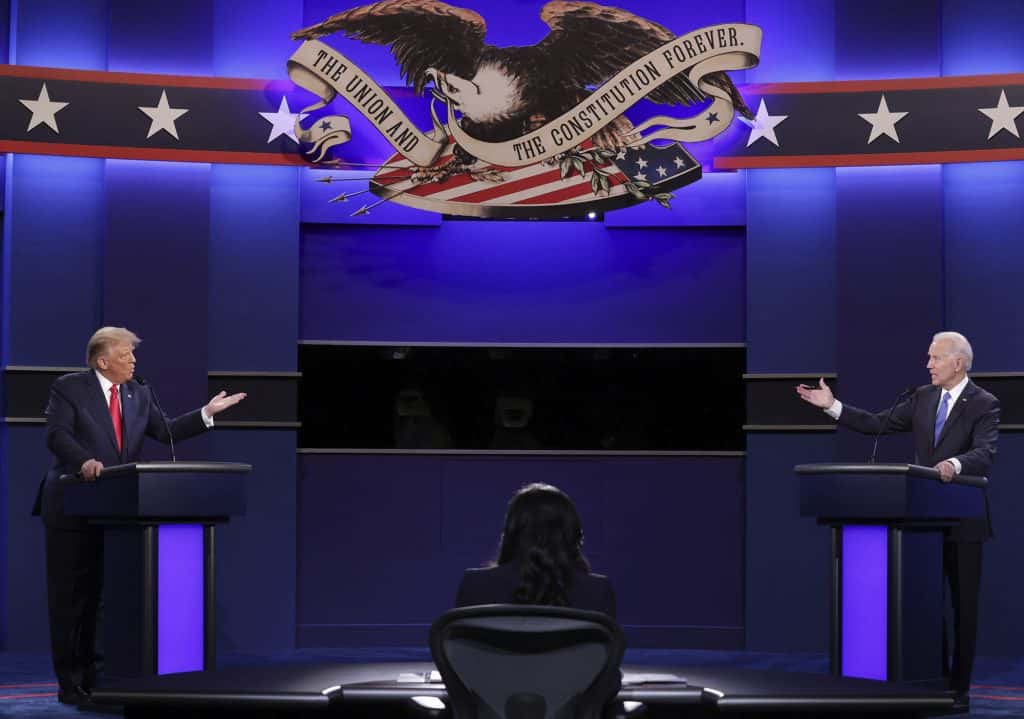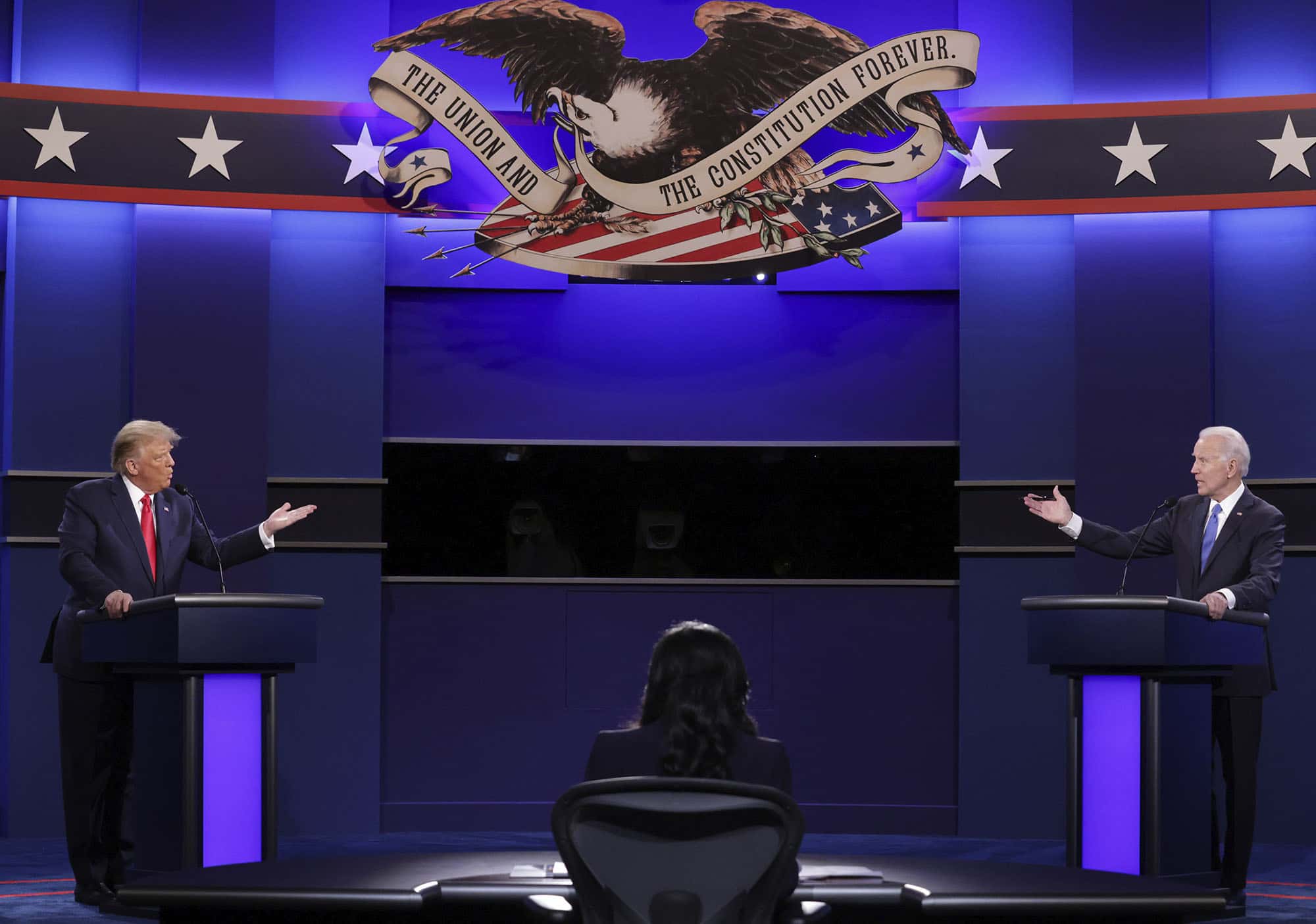 President Donald Trump and Democratic presidential candidate Joe Biden participate in the final presidential debate at Belmont University, on Thursday, Oct. 22, 2020, in Nashville, Tennessee.
Photo: Chip Somodevilla / Pool via AP
THE 2020 US Presidential election has exposed a particularly indoctrinating, and extremely toxic narrative that mocks millions of voters and, as a result, undermines the very foundations of democracy.
And the fault rests entirely with the Left.
As a left-leaning voter myself, I often pride myself on values that are synonymous with liberal ideals; in particular tolerance. The acceptance of different views and the belief that they should all be expressed and accepted.
It is extremely sorry to say that this view is no longer upheld at either end of the political spectrum, least of all by we so-called liberals.
Trump's victory in the 2016 election, alongside the small margin in the 2020 election, with Trump winning 48 per cent of the popular vote thus far, demonstrates that his presidency was no mistake and that his campaign is entirely viable.
"If you have a problem figuring out whether you're for me or Trump, then you ain't black"
However, left-leaning voters refuse to consider the fact that people could simply vote for someone who does not align with their political views.
While it is hard to condone Trump's offensive and erratic tweets, and there is little support for his proposal to sue for the presidency, I wholeheartedly disagree with liberals attempting to undermine voters using the justification that anyone who voted for Trump is a racist, homophobe, misogynist, or any other insult hurled their way, in an attempt to boost themselves up on some form of deluded moral pedestal.
In the last few days, on various social media platforms, liberals have shared a post that states: "If you voted for Trump, I mean this in the most disrespectful way possible, I do not want anything to do with you. Not only did you vote against basic human rights and equality, you decided racism, homophobia, Islamophobia, transphobia, and misogyny behaviour wasn't a deal breaker."
I hate to break it to you, but Biden hardly has a squeaky-clean past.
Let's take the issue of racism, for example.
Biden's statement: "If you have a problem figuring out whether you're for me or Trump, then you ain't black" was completely inappropriate (though he did later apologise for being "such a wise guy").
It also insinuated that he, a white man, knows what's best for the black community. It also suggests that just because someone is from a specific race, they must vote for a specific candidate, instead of allowing individuals to make an informed decision for themselves.
If we examine misogyny between the two presidential candidates, it's apparent that both have outstanding allegations…
Let's discuss mass incarceration.
Currently, the US has the largest incarceration rates, with a 500 per cent increase over the past 40 years. It disproportionately impacts African-Americans, who constitute only 13 per cent of the total population – but 38 per cent of the prison population.
The 1994 Violent Crime Control and Law Enforcement Act, which introduced mandatory minimums in sentencing, removed educational grant-aid for prison inmates and contributed to the mass incarceration problem, is an example of Democratic oversight in racial injustice.
Of course, mass incarceration was already an issue and was started under Republicans. However, this bill was used to demonstrate that Democrats could also be tough on crime.
And who drafted the Senate version of the legislation?
Biden.
Trump, however, has passed the First Step Act in 2019 which provides sentencing relief, to overturn the 1994 bill. So far, 721 defendants have received sentence reductions, 573 of whom have been released. Trump has also signed executive orders that banned police choke-holds in the wake of George Floyds death.
And the Democrats have the audacity to say African-Americans 'ain't black' if they don't cast their vote in favour of their party? Or call whites that vote for Republicans automatically racist?
Is Trump anti-racist?
Not at all.
Is Biden?
It's certainly questionable.
But I do believe that if the Democrats had signed the same bills as Trump for mass incarceration they would be heralded and praised endlessly. Let's give credit where it's due and hold politicians to the same level of accountability.
Furthermore, if we examine misogyny between the two presidential candidates, it's apparent that both Biden and Trump have outstanding allegations of inappropriate behaviour towards women.
Biden has been accused by eight women of inappropriate behaviour towards them.
His Vice Presidential candidate Kamala Harris originally supported and believed his accusers before he offered her the vice presidency.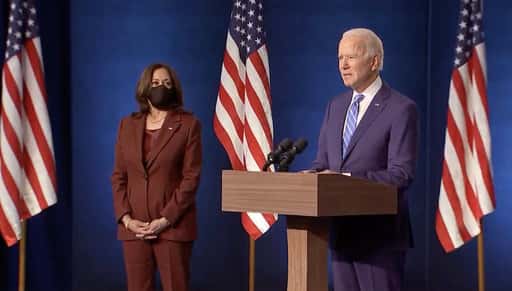 To be clear, I don't condone any form of sexual assault.
However, I believe that both presidential candidates should be held to the same standard, rather than ignoring one's misconduct and praising him for his progressiveness and 'kindness', and purposely using the sexist outbursts of the other to vilify him.
I have also seen similar social media posts stating, "Millions are fearing for their lives tonight because some of y'all are afraid of being taxed slightly more in a bracket that you'll never get to."
What about the Trump supporters that have been attacked simply for wearing a Make America Great Again (MAGA) hat? Are they not fearful?
For instance, KRCR reported a 77-year-old veteran had been attacked for wearing a MAGA hat in September. There have been other reports from the Daily Mail about people stealing these hats. Of course, these are isolated incidents, but it could be argued that incidents of violence by Trump supporters are also isolated.
Additionally, posts like this insinuate people are selfish for voting in favour of economic interests that could directly benefit them.
What's wrong with voting for someone who helps you economically? Isn't that the point of an election? To cast your own vote.
Regardless of who wins this election, the race for the White House has highlighted a calculated attack by Democratic voters to silence, vilify and ridicule Trump supporters.
Political polarisation has done nothing to create effective policy and encourage a peaceful transition into the White House.
It is entirely disappointing to see the despicable behaviour on both sides of the American political spectrum.