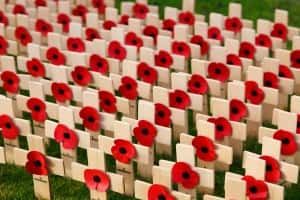 IN LIGHT of the on-going COVID restrictions, Sunderland City council have cancelled this years Remembrance day service and parade.
Due to the local Government restriction the council plan to hold an online service on November 8, to allow residents of Sunderland to pay their respects from home.
The Royal British Legion, commented: "We are encouraging people to participate in their own personal moment of Remembrance, whether that be watching the national Service of Remembrance on television or pausing for the Two Minute Silence at home or on their doorsteps".
As coronavirus cases continue to rise in the North East service gatherings on November 8, are not permitted.
Veterans at Ease charity in Gateshead have decided to celebrate this year's Remembrance day by dedicating their shop window displays to remark the day.
Managing Director, Christina Murrell, said: "This year is going to be very different, we have decorated are shop windows and I intend to have a low key celebration myself this year, I plan to walk to my local Gateshead cenotaph and layout a wreath to pay my respects".
The Royal British Legion, reported this year a 30 per cent reduction in poppy collectors volunteers and are asking for donations online this year as well.
To take part in Sunderlands online service visit the Sunderland council website.