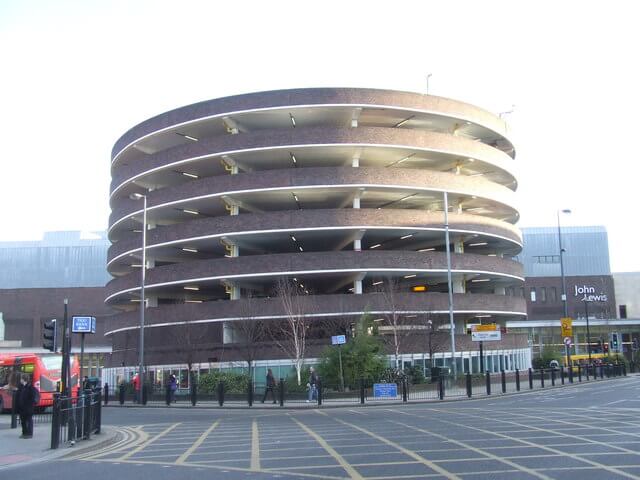 THE PANDEMIC has hit council car park revenue hard, with some North East authorities making £9 million less in 2020 than in previous years.
A combined total of £4.1 million was made across the three highest-earning car parks in each council area in 2020 including Sunderland, Newcastle, Gateshead, North and South Tyneside, Darlington, Durham and Northumberland.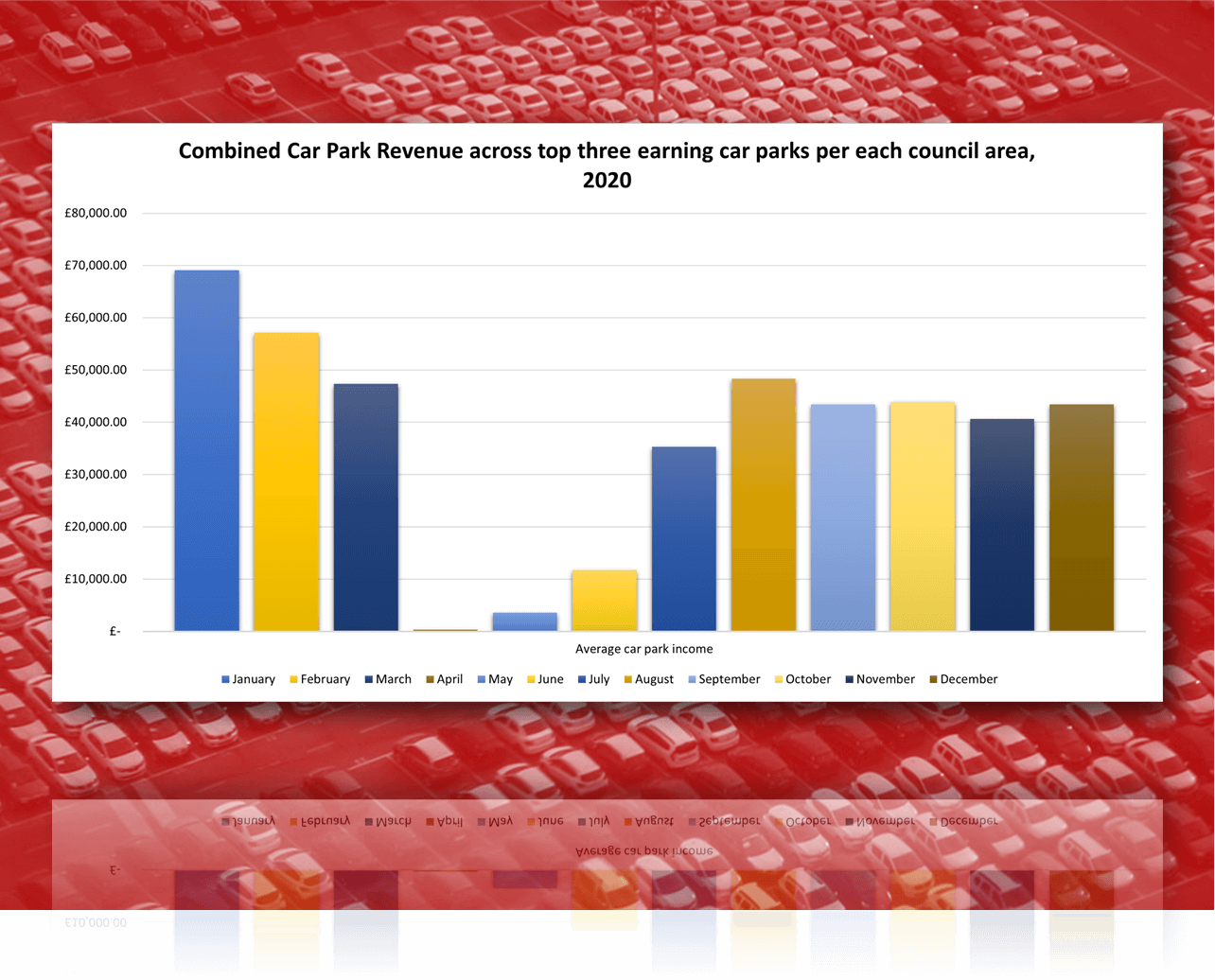 Despite government restrictions lifting, even during Eat Out to Help Out in August, on average revenue from the top three earning car parks in each region did not recover to the pre-lockdown levels of January and February.
Newcastle City Council was the biggest earner, with its Eldon Square and Dean Street car parks making over £1.4 million during 2020, of which £200,557 was made in December in the lead up to the Christmas period that would see some families swapping gifts at motorway service stations with only one day of a festive 'bubble' permitted by the UK government.
A spokesperson for Newcastle City Council said: "Any surplus income from car parking charges is put towards the day-to-day running of important council services that residents rely upon.
"The Covid pandemic has had an impact across many areas of council services, including car parking.
"Gross income from parking during 2020/21 was just over £6.2m, compared to almost £15.5m the previous year, although the government has confirmed that councils are to be offered some financial compensation to help make up for the loss in parking income.
"It is too early to say exactly what the impact of this, and the wider financial effects of the pandemic, will be on council spending but we are working hard to ensure that the most vulnerable in our communities continue to receive the services they need."
Sunderland City Council's top three highest-earning car parks in 2020 were St Marys, Sunniside and Marine Walk car parks.
A spokesperson from Sunderland City Council said:
"Due to the Covid pandemic, council car parks were free of charge for a number of months in 2020.
"The car parks remained open and staffed, however occupancy levels were greatly reduced due to the lockdowns and the restrictions on businesses operating during the pandemic and this has had an impact on the overall parking account for 20-21.
"When there is a surplus on the parking account it allows us to reinvest in parking facilities, fund refurbishments, upgrades to parking services and contribute to the delivery of transport schemes in the city."
Durham County Council made over £64,000 from its top three earning car parks in July, bucking the trend by far exceeding January and February's totals, largely due to the popularity of its green spaces in Hardwick Park which recorded a bumper £31,216 worth of car parking revenue.
But just as the rest of the councils in the North East, Durham suffered big hits in their total income from council car parks.
Dave Lewin, Durham County Council's section manager for strategic traffic management, said: "For the financial year 2020/21, total parking income was 57 per cent less than 2019/20 and 60 per cent less than 2018/19.
"Due to the coronavirus pandemic and several national lockdowns, people remained largely indoors which meant fewer people travelled and parked in town centres.
"In addition, there were periods when payment for parking was suspended."
"Money generated from parking remains a very important source of revenue.
"It helps to maintain the transport infrastructure across County Durham, including bus services and facilities for pedestrians, motorists and cyclists, in accordance with county council priorities.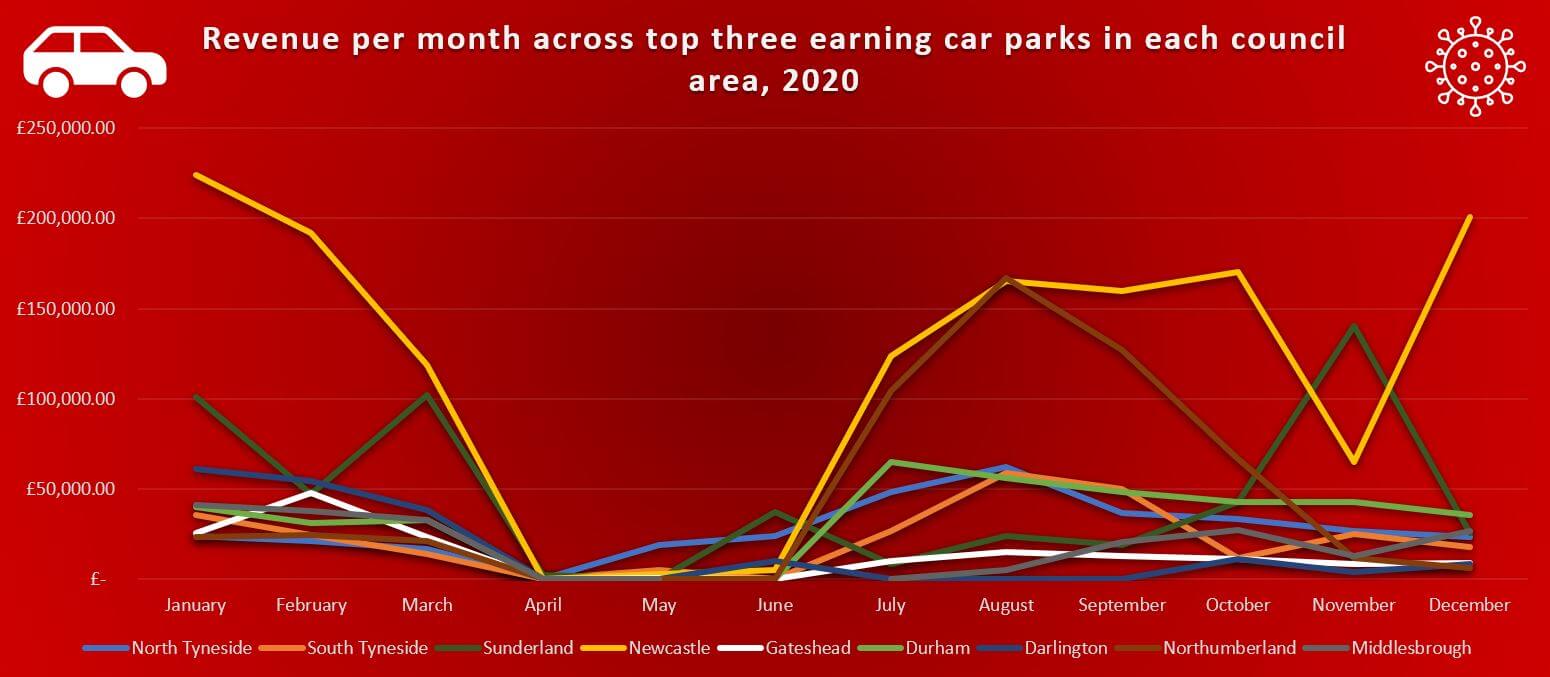 Council Area
Top Three earning car parks over 2020
Total amount over 2020
Sunderland City Council
St Mary's
£381,375
Sunniside
£70,034

Marine Walk
£59,455

Newcastle City Council
Eldon Square Multi-storey Car park 1
Eldon Square multi-storey car park 2
£486,732

Dean Street
£272,412
Gateshead Council
Mill Road
£81,501

Civic Centre
£49,225.00

Heworth
£36,378.00

Durham Borough Council
North Ropery Lane
£84,033.70

Hardwick
£180,779

Galgate
£124,373

North Tyneside Council
Beaconsfield Car Park

£183,708.00

Bournemouth Gardens Car Park

£99,763.80

St Marys Island (North) Car Park
£63,281.40

South Tyneside Council
Pierhead
£145,006.71

South Promenade South
£60,924.50

South Promenade North
£32,798.84

Darlington Borough Council
Feethams Multi-storey
£68,043

Commercial Street West
£62,446

Abbotts Yard
£39,763

Northumberland County Council
Chare Ends Car park, Holy Island
£245,991

Links Road car park, Bamburgh
£140,405.52

Station Yard car park, Seahouses
£130,595.24

Middlesbrough Council
Zetland
£82,233

Captain Cook
£79,096

France Street
£25,909
The above table shows the top three highest-earning car parks for each council region throughout 2020 ONLY.  
SR News contacted North and South Tyneside Councils, Gateshead, Darlington Borough Council, Northumberland County Council and Middlesborough Council for comment, but have not received a reply.
Link to full FOI spreadsheet here.
Main Image credit: Eldon Square multi-storey car park, Newcastle. Credit Malc MacDonald.