Search 'US Election 2020' to view all our coverage
In the run-up to Tuesday's US Presidential election our student reporting team aims to explore, explain, enlighten and  even entertain you on the race for the White House.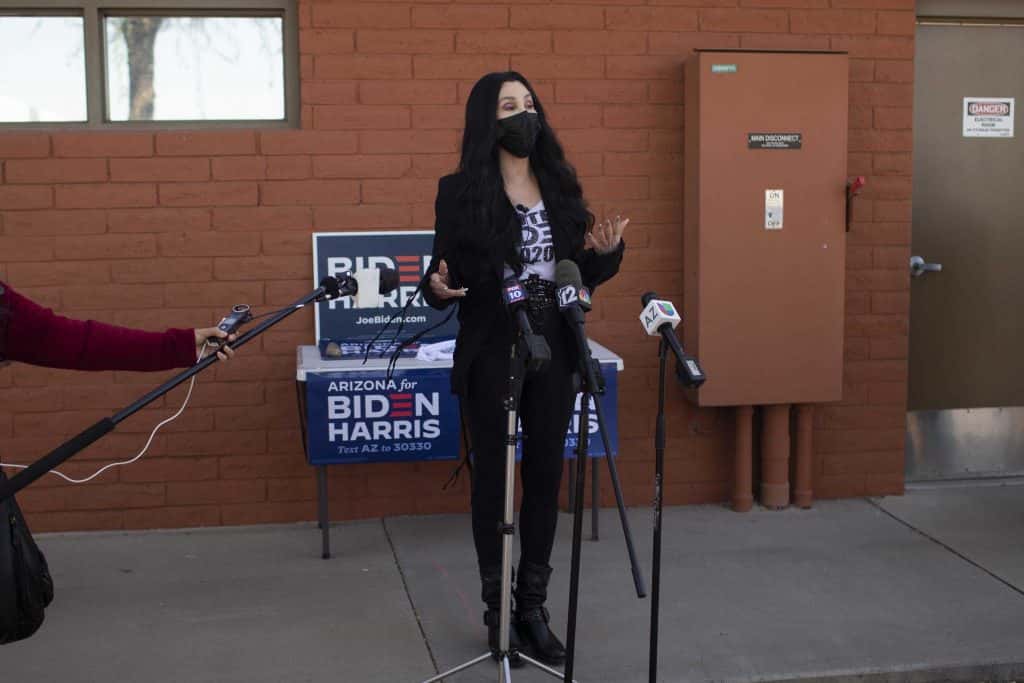 CELEBRITIES have been coming out en-masse to endorse 'their man' Joe Biden as the 46th President of the USA.
From Twitter to Instagram, celebrities from the worlds of sport, music, film and TV have been publicly backing their respective candidates.
Biden celebrities outnumber Trump supporters by six to one, which Democrats will hope suggests that a Biden landslide could be on the cards, with passionate support from the likes of Tom Hanks, Cher, The Rock and Madonna.
Dwayne Johnson, aka 'The Rock', has over 300million followers on social media, making him the most followed celebrity on Instagram – and he's an extremely vocal Biden fan.
But Trump also has some big hitters behind his campaign.
Really interesting, with all the current racial tension in America right now is that Trump has secured celebrity support from left-field campaign 'candidate' Kanye West and rapper 50 Cent. Other high-profile Trump supporters include movie stars Jon Voight and Kirsty Alley.
Look through the lists below to find out just who in the world of showbiz is supporting who.
One final word of warning, though, for Biden supporters … and some comfort for the Trump camp: four years ago Hillary Clinton was adored by global icons and A-listers such as Robert De Niro and totally dominated the celebrity endorsement stakes, but … we all know how that turned out.
Below are a selection of Tweets from the social media accounts of the rich and famous, showing which side of the ballot box their loyalties lie.
Are they donkeys or elephants?
Lets Go House of Democrats! 🇺🇸 Be Fierce! #vote #bidenharris2020 pic.twitter.com/N6lAZgI89C

— Madonna (@Madonna) October 24, 2020
Oh, yeah! Mayor @CHunschofsky is joining @WhenWeAllVote's #CivicCities to get everyone voting in Parkland, FLA. I've never been to Parkland, but Me Likeeee! Hanx.

Take a look at the dozens of mayors doing this, too: https://t.co/QIOXTMoljl

— Tom Hanks (@tomhanks) May 21, 2020
"2 LATE"2 TRUST POST OFFICE 2 MAIL UR BALLOT ON TIME.PHILLY Mail Delivered less than 43% BALLOTS ON TIME.DETROIT LESS THAN 53% On Time.N.OHIO Less Than 53%
On Time.S.FLA Less Than 63% On TIME.N.Ohio Delivered Mail 62% ON TIME.PUT IN DROP BOX,BY HAND,CLERK,POLL PLACE.I SWEAR🙏🏻

— Cher (@cher) October 29, 2020
https://twitter.com/therock/status/1310327881935904768?s=21
NFL Player's Patriotic, Pro-Trump, Jaw Dropping Speech at the RNC Leaves… https://t.co/d4HbLAIs2l via @YouTube

— Kirstie Alley (@kirstiealley) October 29, 2020
Evil pic.twitter.com/P99gvy6lZL

— Jon Voight (@jonvoight) October 16, 2020
We need president who put god will in priority 🙏 and love all people ❤️ @kanyewest is my president 🤝 small head, BIG HEART 💓 #kanyeforpresident #kanye2020 pic.twitter.com/gvMKVL0geh

— People but with small head (@butsmallhead) October 15, 2020
California is like someone rearranging the chairs on the deck of the sinking titanic! Democrats have ruined California. https://t.co/kfXWmbXhrD

— Scott Baio (@ScottBaio) October 28, 2020
BIG-NAME BIDEN BACKERS
Model Hailey Bieber Actress Uzo Aduba Actor Ben Affleck  Actor Jason Alexander Actor Eric Andre Actor Fred Armisen Actress Patricia Arquette Actor Ed Asner Actor Alec Baldwin Actress Elizabeth Banks Actress Kathy Bates Actor Sean Astin Entertainer Sandra Bernhard Actress Annette Bening Comedian and Actor Michael Ian Black Celebrity and Activist Chaz Bono Actor Tituss Burgess Actor Drew Carey Actress Tia Carrere Actress Jessica Chastain Actor Don Cheadle Actress Kristin Chenoweth Actor and Director George Clooney Actor Misha Collins Actor Billy Crystal Ayesha and Stephen Curry Actress Jamie Lee Curtis Actor Robert De Niro Actress Zooey Deschanel Actress Zoey Deutch Actor Leonardo DiCaprio Actor Cary Elwes Actress Mia Farrow Actress Tina Fey Actress and activist Jane Fonda Singer Luis Fonsi Actress Vivica A. Fox Actress Jeannie Gaffigan Actor/director Christopher Guest Actor Mark Hamill Actor Tom Hanks Actress Mariska Hargitay Actor Dustin Hoffman Actor Samuel L. Jackson Actress Scarlett Johansson Actor Michael B. Jordan Actor Daniel Dae Kim Kravitz Actor Shia LaBeouf Actress Jennifer Lawrence Actor John Leguizamo Actress Eva Longoria  Actress Julia Louis-Dreyfus Broadway star Patti LuPone Actress Jane Lynch Seth MacFarlane Actress Debra Messing Actress Bette Midler Actress Alyssa Milano Hamilton Creator Lin-Manuel Miranda Actress Mandy Moore Actor Joseph Morgan Hamilton Actor Rory O'Malley Actress Sarah Paulson Actor Lou Diamond Phillips Actress Aubrey Plaza Actor Billy Porter Best Actor Robert Redford Actress Storm Reid Actress Lisa Rinna Actress Tracee Ellis Ross Actress Susan Sarandon Actor Jimmi Simpson Actress Octavia Spencer Actress Mary Steenburgen Actress Sharon Stone Actor George Takei Actress Amber Tamblyn Celebrities John Legend and Chrissy Teigen Sean Patrick Thomas Actress Ashley Tisdale Actress Lily Tomlin Kerry Washington Actress Lynn Whitfield Actress Rita Wilson Actress Reese Witherspoon Actress Alfre Woodard Actor Jeffrey Wright Steve Aoki Green Day frontman Billie Joe Armstrong Cardi B Sebastian Bach Frankie Beverly Leon Bridges Jimmy Buffett Bad Bunny Eric Burdon Cher David Crosby Sheryl Crow Taylor Swift Andra Day Diplo Snoop Dogg Hip-hop producer Jermaine Dupri Singer Billie Eilish Melissa Etheridge Perry Farrell Singer Ben Gibbard Halsey Anthony Hamilton Jennifer Hudson Nick Jonas Carole King Hayley Kiyoko Adam Lambert Ludacris Yo Yo Ma Madonna Artist Willie Nelson Katy Perry Singer/songwriter Pink Maggie Rogers Prince Royce Bruce Springsteen Barbra Streisand James Taylor Actor-singer Justin Timberlake Kesha Singer and songwriter Rufus Wainwright Joe Walsh Chely Wright Neil Young Donna Dixon Jon Bauman Alejandro Artist Monica
TRUMP CAMPAIGN TRAILBLAZERS
Musician Eric Carmen, John Dolmayan, Jana Duggar, Brandi Love  Carrie Prejean,   Antonio Sabàto Jr.,   Andre Soriano, Actor Isaiah Washington, Samaire Armstrong, Michale Graves   Rick Harrison   Television personality Mary Hart , Kaya Jones, Chonda Pierce, Singer Ricky Rebel, Phil Robertson, Willie Robertson, Johnny Rotten, Michael Tait