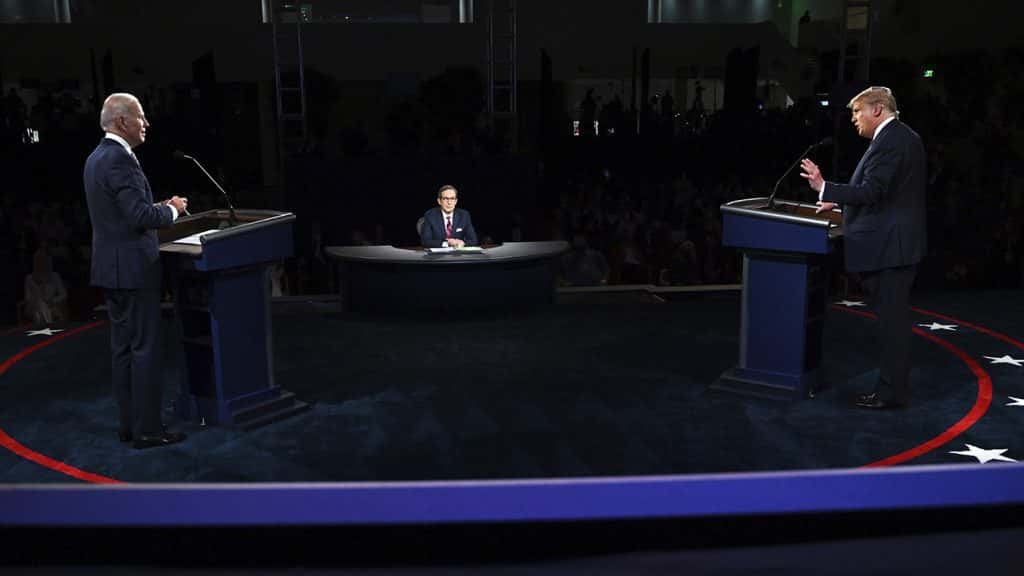 AFTER election campaign rallies across the United States, bitter rivals Joe Biden and President Donald Trump finally came face-to-face last night, for the first televised presidential debate.
Predictably, one of the big topics under heated discussion was the coronavirus pandemic. At the time of writing (September 30), the US has the most reported Covid-19 cases of any country in the world, with 7.22 million cases and 206,000 deaths. 
Biden recalled Trump's acknowledgement of the virus and said the President should have united the Democrats and Republicans, when the country needed united leadership. However, the President fell back on previous claims that China was to blame for the pandemic, and "it should have never happened". 
More importantly, he claimed his administration was "weeks away from a vaccine" for the virus. 
It wasn't long before the debate started to heat up and get personal, as the two candidates discussed taxes, in the wake of the New York Times' revealing that the billionaire-President only paid $750 in federal income taxes between 2016 and 2017 (reported as being less than the tax paid by an average nurse in America).
Moderating the debate for Fox News, Chris Wallace had to remind both men – mainly the president – about the rules of the debate, as Trump interrupted Biden during his allotted two-minute segment (the time allowed for each man to make statements).  
As the debate moved onto race, Biden brought up Trump's stunt during the protests that followed the death of George Floyd, where he stood in front of a church for a photo opportunity with a bible.
Trump responded by resurrecting an historic allegation that Biden had called black Americans 'super-predators.' (NBC news reported that this was mostly false, as Hillary Clinton, then First Lady to President Bill Clinton, used the term 'super-predator' to advocate the crime bill in 1994 – which Biden co-wrote.)
The debate then took in the area of law and order, as the president praised his own record.
As the debated moved on towards why voters should vote for them, Trump said: "There has never been an administration, or president, who has done more than I have done in a period of three and a half years" 
While Biden blamed Trump for the recent recession in America – despite the effect of the ongoing pandemic – things got extremely personal for the former Vice-President, when Trump brought up his youngest son Hunter's dishonourable discharge from the US Navy Reserve in 2014 after failing a cocaine test.
Biden angrily defended both his sons, pointing out his eldest son Beau's courage in serving with US forces in Iraq in 2009, before his death in 2015. 
Finally, Trump returned to his recent claim that if he loses the election, it will be due to electoral fraud – and called on his supporters to flood into polling stations to "watch very closely".  
Comment:
In my opinion, Biden won the first presidential debate, as he was able to, at the very least, answer the questions he was given. On the other hand, Trump would rather go on an aggressive tangent against his rival and take the scenic route to answering his question