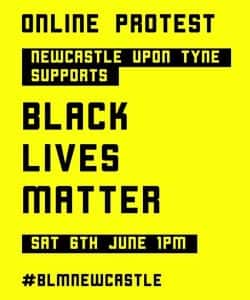 GEORGE Floyd's death in police custody has sparked global anti-racism protests.
A shocking viral video captured George Floyd's struggle to breathe while in police custody on May 25, 2020. Officer Dereck Chauvin, 44, was videoed kneeling on Floyd's neck for almost nine minutes while pleading "I can't breathe".
George Floyd's death has acted as the tipping point to fuel protests around the world.
Newcastle Supports Black Lives Matter: online protest, event organiser, Simon Evans said: "I organised the protest because like many people, I was horrified by the footage of police murdering George Floyd in Minnesota. I thought Newcastle, being proudly anti-racist, could come together and support the cause of justice."
The Newcastle protest was originally planned to take place at Grey's Monument on Saturday June 6, 2020. However, after discussions with Stand Up to Racism and Newcastle Unites and Sunderland Unites, it was decided to move the protest online. The leading anti-racism organisations in the North East discouraged mass gatherings during the ongoing Covid-19 pandemic.
"Many people in the comments expressed legitimate concerns for safety and because the pandemic has been disproportionately affecting black people. We agreed together that the safest option would be moving the event online."
The live protest took place on Saturday June 6, 2020 on a live Zoom stream which was accessed via the official Stand Up to Racism North East Facebook page reaching over 100,000 people. The protest had an all Black, Asian and Minority Ethic (BAME) line up including, Newcastle MP Chi Onwurah.
Among those protesting was Deborah Ugo, 18, said: "Protesting shows how much of a problem racism is. We've had enough, it's just black people complaining everyone has united to fight against a massive problem."
Chauvin was initially charged with third-degree murder and second-degree manslaughter. But was later charged with second-degree murder. The other three officers involved have been charged with aiding and abetting second-degree murder and aiding and abetting second-degree manslaughter.
Almost three weeks since George Floyd's death and protests continue around the world, uniting everyone in solidarity and making a difference.
Links can be found here at: