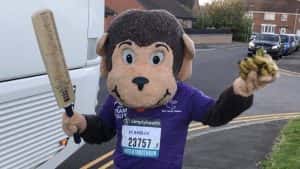 THE Great North Run has been cancelled for the first time in 40 years, due to the Covid-19 pandemic.
On September 13, 2020 more than 55,000 runners were set to take part in the famous North East half marathon. Following government guidelines, event organisers announced the cancellation of the event but taking its place a virtual running campaign, Great North Run Reimagined.
Spokesperson, for The Great Run Company, said: "We're sad that the Great North Run has been cancelled but we want to help our runners to keep running, and train for the virtual Great North Run. So we've launched Great North Run Solo!"
Participants are challenged to complete 40 runs over the phase of 78 days. The race begins on the anniversary of the first Great North Run June 28, 2020 and ends September 13, 2020.
Everyone who completes the challenge with get a digital certificate and a medal.
"This year is different. We won't be on the start line, we aren't waiting for you at the finish, you won't have thousands cheering you on… But you can still "be Your Greatest!"
The price to take part is £10, and all profits will go to the NHS Charities Together Covid-19 Urgent Appeal. On average each year, The Great North Run raises over £25 million for selected charities.
Alice O'Neil, a second-year nursing student from Northumbria University, said: "Along with everyone else, I was expecting The Great North Run to be cancelled this year. So, I was excited when they announced a virtual challenge as it meant my training wasn't wasted."
"During the Covid-19 outbreak, I've worked at the RVI as part of the undergraduate programme. I'm glad that all of the profits for the challenge are going to NHS charities which is something that united the country during the lockdown and also a charity that is close to my heart."
Event organisers are aiming to build a Virtual Great North Run experience on September 13, 2020. Their goal is to make the 13.1 mile race experience as close as possible to the real event without the crowds.