THE Knife Angel is set to leave the North East today, it has spent the last month educating the North East on the effects of knife crime.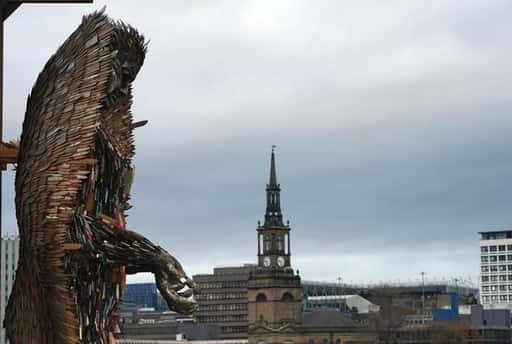 THE 27 ft sculpture is currently touring the UK in order to raise awareness for knife crime. The Knife Angel has been located outside of The Sage, Gateshead, with many people from across the region taking their time to visit.
Alfie Bradley, sculpture of The Knife Angel, said: "I wanted to create an angel with his hands out, asking why.
"His wings are fanning out, so it shines like a star and almost looks like a shield at the same time.
"It creates conversation, which is very important, I've left the coloured knife handles to attract the eye of all ages." 
Alfie worked alongside The British Ironwork Centre to develop the Angel and in order to create the sculpture 100,000 knives were used. All knives that are now part of the sculpture were from police forces throughout the country. During the stay, workshops were given to local students to educate them on the developing issue of knife crime.
With knife crime continuing to rise throughout the UK, statistics show there were 44,076 reported crimes with knives involved in 2019, 8 per cent higher than 2018.
Theresa Cave, the founder of The Chris Cave Foundation, was given the opportunity to run workshops and educate those who visited the Knife Angel in August last year while it was situated in Middlesbrough.
Chris Cave, Theresa's son, was stabbed to death in 2003. Since then she has spent her life trying to discourage youths from violent crime. The Chris Cave foundation was set up to raise money for programmes around the country to end street crime, support is also offered to those that have lost a relative to violence on the street. 
She said: "I am really pleased it's made a second visit to the North East giving those who couldn't get to Middlesbrough the chance to see it in its full glory.
"The Angel brought many messages of hope, truths and education which is key to show young people the devastation that knife crime brings."
The Knife Angel will continue its tour of the UK with many places already lined up. The next location the Knife Angel will be able to be seen is in Telford, Shropshire. 
https://www.britishironworkcentre.co.uk/show-areas/the-knife-angel-official/the-knife-angel-uk-tour