The "Received Wisdom" exhibition at Sunderland Museum and Winter Gardens started on February 1st 2020, and is looking to challenge the myth that creativity and the desire to make art is something that only comes at a young age.
Jonathan Weston, Exhibition Officer at Sunderland Museum and Winter gardens, said it is: "the first of a three year partnership with the Arts Council Collection, which is focusing on British artists. This exhibition focuses on a series of artists that either started later on in life, or had recognition later on in life and were collected later on in life, so these artists are over the age of 45."
One of the pieces that represent the idea of the exhibition is the work of the pioneering feminist artist Jo Spence, who lived with breast cancer.
A lot of her work looked at living and practicing creativity while having the life-limiting illness.
Other artists in the exhibition have dealt with long term illnesses as well, and their work represents how their body or perspective has changed because of that.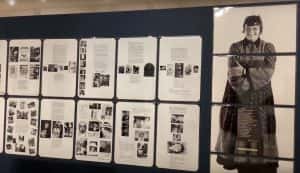 "I think now, more than ever, the idea of creativity is present throughout life and does not affect your ability, it doesn't matter how old you are, you can still produce work, and you're never to old to start practicing art. Art is a very therapeutic practice as well, and it's very important now, with the increase in mental health issues" Jonathan Weston also said.
The exhibition is on display until  May 10th, 2020 and entry is free.