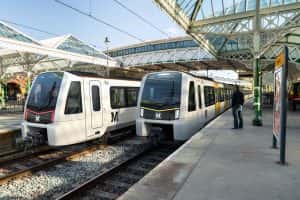 First look at new metros Credit: Nexus
Nexus have announced plans for a new Metro fleet for the Tyne and Wear area.
After 40 years of service, Nexus has decided to rebrand its trains with new exclusive features and facilities to accommodate the public including wider carriages and air conditioning which will be designed by Swiss firm Stadler.
The trains will be released gradually in 2022, providing a more reliable and retractable service.
Metro Communications Officer, David Punton said: "It will result in a 15 per cent more reliable service to Tyne and Wear which will create a huge benefit."
He added: "The new trains won't be as badly affected by the 'low rail adhesion' caused by leaves on the line, which is a regular source of delays. The new trains will have additional measures fitted to cope with this common railway problem."
Nexus have also confirmed the new trains will benefit travellers with disabilities by having an automatic step that will deploy at every door to close the gap with the platform, making it easier to get on and off. As well four dedicated wheelchair spaces, separate space for buggies, bikes, and luggage can be stored under the seats.
Mr Punton added: "Passengers will benefit from wi-fi connectivity, mobile phone USB charging points, air conditioning, heated floors in the winter, CCTV cameras and information screens throughout the trains."
Nexus is hoping to expand in the future by building a bigger system to operate in different areas along with on-board battery technology which can allow the public to travel for 45 minutes without needing overhead power, making an expansion into new zones easier and more affordable.
A spokesperson for  Newcastle City Council said: "This will benefit the Newcastle, Gateshead and Sunderland economy by having an energy efficient service."
For further information visit Nexus or call them on 0191 203 3199