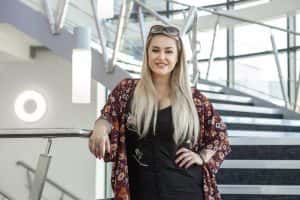 Sunderland graduate Jenah May has launched a theatrical project, Eagle Artistry, which focuses on wellbeing, fighting stigma around mental health and working with the victims of trauma and from fractured backgrounds.
Inspired by her own struggle with mental health and overcoming adversity from domestic violence, miscarrying her twins and fighting for life after contracting sepsis, Jenah, 35, has launched the Community Interest Company after securing membership with the Enterprise Place, the University's business support facility which gives her access to their co-working office space in Hope Street Xchange, a centre for enterprise and innovation.
Taught by qualified teachers – Courtney Price and Kelly Moon, both Sunderland graduates alongside Gemma Evans, a self-love and confidence coach and Jenah – Eagle Artistry classes will tour the region building on confidence through drama therapy strategies whilst developing clients' theatrical skills.
"I'm incredibly excited about this new project, it's been a life-long ambition and I'm overwhelmed by the support I've received from governmental bodies as well as professionals," explains Jenah, from Houghton-le-Spring.
"I wanted to share my passion for the performing arts and the benefits it has given me mentally and physically. In addition there will be confidence coaching and holistic therapy to support the development of our clients' wellbeing.
"My life has certainly been a journey, and the turning point was studying for my degree, they were definitely the best years of my life at Sunderland, so it seemed only fitting to launch this businesses with the help of the University, I've thrown myself into this project."
By way of introducing Eagle Artistry, Jenah is hosting a charity event on Thursday June 20, in aid of Mind mental health charity, Sunderland Mind and Victim Support. With the help of local musicians and performers, at the Roker Hotel in Seaburn, at 6pm. For tickets go to: https://www.eventbrite.co.uk/e/vaudeville-charity-event-tickets-59063844549
Jenah says: "We are teaming up together to smash stigma and create a community of strength moving forward, whilst raising lots of money and awareness.
"The aim is to work with local businesses, musicians and performers who believe the arts are a way to help with growth and development. The event will include a drinks reception, three course meal and present a showcase of burlesque skits, spoken poetry, musical/theatrical performance, singers, and motivational speakers, to raise money and awareness. This platform will demonstrate the positive impact the arts can have on mental and physical development, offering a path for healing and therapy."
Before she gained her place on an English and Drama degree in 2012, Jenah had held down a number of jobs after leaving school, from working in a chippy to performing on stage as a stilt walker and fire-breather, but always acting and performing. There were TV, commercials and film work, jobs she ensured would bring a regular income as she raised her daughter Grace. In her words Jenah says: "As a single parent I have always had a job to bring in the money, but made sure I had a side hustle, which offered me freedom and creativity."
In 2012, tired of just "making do" for a living she then decided it was time to return to education and develop her passion for writing and drama. She secured her place at the University of Sunderland having completed an Access to Higher Education course at Sunderland College. In the second year of her degree she also signed up to the Study Abroad programme and spent a year in the USA with the University of Georgia, even taking her daughter on the journey with her. The experience was life-changing and allowed her to make contacts, life-long friends and helped develop her performing arts technique.
Once she'd graduated in 2015 and still keen to learn more, she embarked on a Masters programme in English Studies. Again embracing every opportunity, she became team leader for Spectral Visions Press, a publishing house located at the University, which specialises in creative writing inspired by Gothic literature. There were also a number of stories she had published.
"My English tutors Alison and Colin Younger and drama tutor Adelle Hulsmeier were truly inspiring and I class them as friends, not just mentors."
This was followed by a Post Compulsory Education and Training (PCET) Postgraduate Certificate, the teaching qualification that would help her pass on her knowledge of her subject to help improve life for others.
It was no coincidence that her first teaching job began at Centrepoint, helping homeless people gain qualifications. Following this she continued her supply teaching work, alongside setting up a performing arts group. There was also regular acting work, alongside her work as a make-up artist, applying her abilities backstage in theatrical/TV makeup and special FX.
But In 2018 her life took another turn when she fell pregnant with twins, and sadly lost one baby. Weeks later she became hospitalised when the second twin shows no signs of life, blood clots in her womb caused sepsis, and she says, "I was told I was 30 minutes from death, it was one of the most frightening experiences, and caused huge anxiety alongside chronic fatigue. Thankfully I pulled though, but mentally it had a huge impact."
During her recovery from the miscarriages and post-sepsis syndrome, Jenah spotted a job teaching performing arts in China on a short-term contract, and with the support of her family successfully applied.
She says: "I landed the job and it couldn't have come at a better time, it really gave me back my confidence and helped with the healing process of what I'd been through with the miscarriage."
Once she'd returned to England, the new-found confidence and lightbulb moment came to pull together all the strands of her work, education and life experiences under one roof, and the idea for Eagle Artistry was born.
Jenny Westgate, Enterprise Operations Co-ordinator, said: "Jenah's passion and commitment to fight the stigma of mental health issues in the region and further shines through. To deliver this fantastic charity event so early into her business is brilliant.
"Jenah is taking advantage of the practical support offered at the Enterprise Place as well as networking with other Enterprise Place members.  We look forward to see what she does next with the business and are proud to be supporting her."
For more information about Eagle Artistry, go to:
Facebook: @eagleartistryne
Instagram: @eagleartistryne
VAUDEVILLE Charity Event Page: