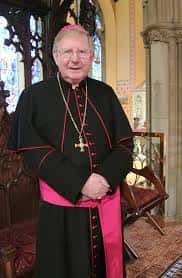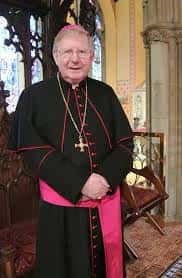 Seamus Cunningham has looked back at some of his key moments during his time as bishop of the diocese of Hexham & Newcastle.
It was on March 20, 2009 at St. Mary's Cathedral in Newcastle that Seamus was ordained as the 13th Bishop of the diocese. Since then he has become a much-loved person who has been very active with the people of the diocese.
Now that he has reached the age of 75, he has, by Canon law, submitted his resignation.
Since becoming Bishop, he has visited all primary and secondary schools in the diocese, overseen the growth of youth services, including the Youth Ministry Trust and their monthly event in the Cathedral called 'The Source'. He also was a leading figure for the Forward Together in Hope movement.
Looking back at the past decade, he says, "I have loved it so much more than sitting at a desk and responding to e-mails. I am very much someone who wants to meet people."
The Catholic Church throughout the country has faced a difficult time courtesy of declining numbers of people entering the priesthood and many parishes have had to cut down on Mass times or have faced closure. Faced with numerous difficult decisions, Bishop Seamus says, "There does come with it complaints… but if we run our priests down to the ground, they can't effectively do their ministry."
Over the past decade, the dioceses has had some success stories regarding their youth. The Youth Ministry Trust comes into contact with around 15,000 young people from schools in the diocese each year and their aim is to promote the faith in a way that engages young people. An event is called The Source where the Cathedral becomes like a concert venue and music is performed as well as a moment for quiet reflection.
The are some dioceses in the country that do not provide any services like this for their youth, of course this could be for a variety of reasons. Following the success of their work, Bishop Seamus wants other dioceses, who may be struggling with their youth, to "look at what we do and see where they take it."
Bishop Seamus will remain part of the diocese and the Rt Rev Robert Byrne will become the diocese's new bishop on March 25, 2019.