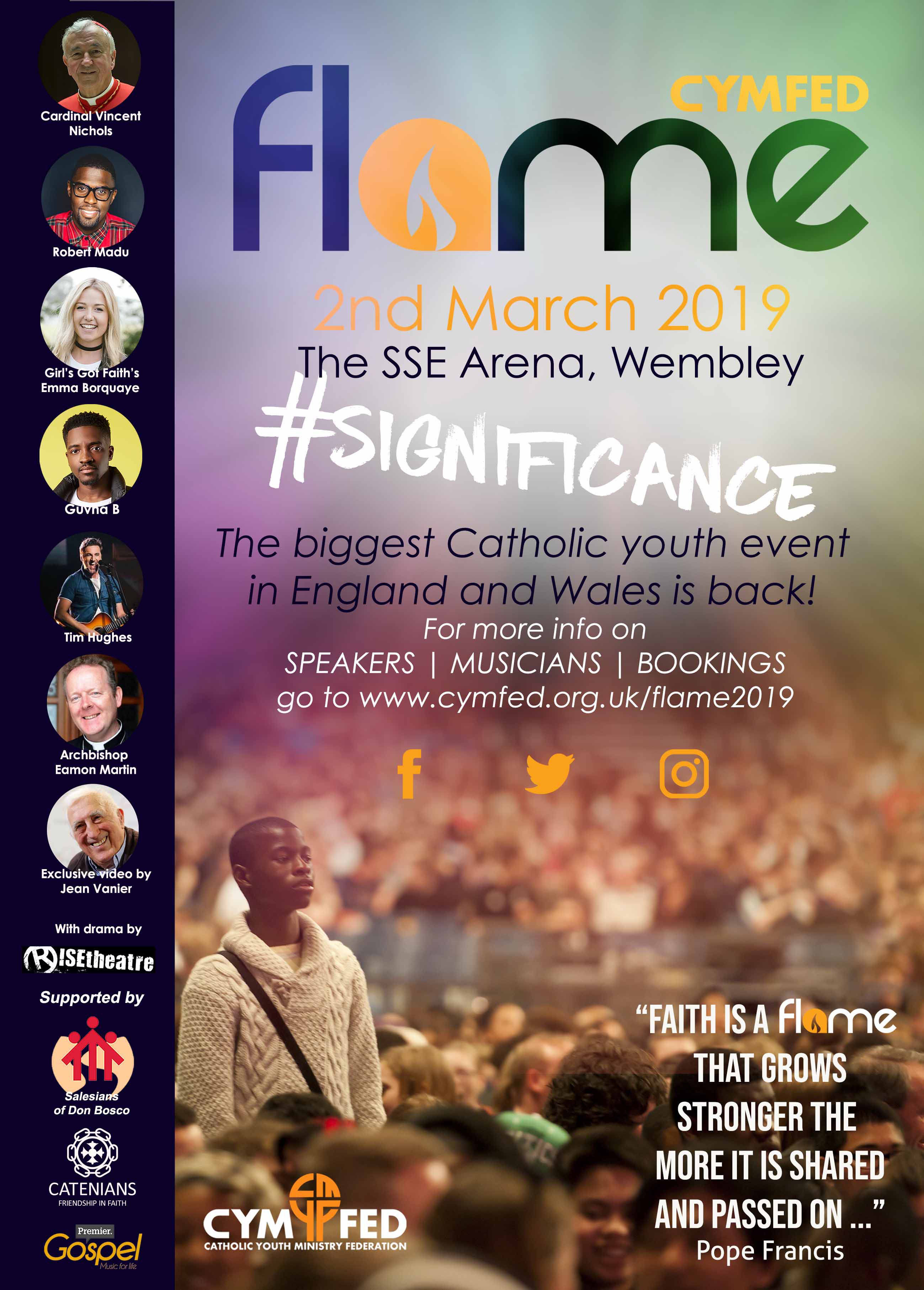 The National Catholic Youth Congress, Flame, takes place on Saturday, March 2, at the SSE Arena and the diocese of Hexham and Newcastle will be taking nearly 900 young people down to London for the event.
Around 9,000 will be in attendance in what is one the biggest events run by the Catholic Youth Ministry Federation (CYMFED). The first event took place in 2012 and has reoccurred biennially since 2015.
Mary Palmer, one of the presenters of the event on Saturday, has expressed excitement about this year's theme of significance. She says: "We are learning and talking about our significance that God created us as significant individuals. It's a reminder that we are worthy of attention.
"I think, in today's world, we can often feel insignificant, just a student ID number in a long list of many others and lots of problems in the world especially with mental health issues. The day of Flame is a time to step back, to think about our significance and also recognise the significant impact we can have on the world."
The Youth Ministry Trust, based in Consett, are the youth service for the diocese and have played key roles in the previous Flame events. Anesu Madziva, a retreat co-ordinator for the charity stated:
"It's great for those going through the confirmation process [typically 15-16 year olds] to go to Flame and we have been encouraging the schools in the diocese to get the young people involved in this event.
"This event is very important to the diocese. It's nice to attend events across the diocese but it is great for ourselves to attend Flame on the big national scale."
The attraction of Flame is certainly helped by the guest speakers that, in the past, have included David Wells and broadcasters Gilly Hope and Alfie Joey.
This year, Christian rapper, Guvna B and his wife, Emma (the founder of 'Girl got faith') will be making appearances along with musician, Tim Hughes leading the worship.
When talking about the message of Saturday's event, Madziva says: "I want all the young people to hear that the church is there to help us with our life, our faith and our worries of anxiety. I am glad that we are here for that and if they realise that, it can help take off the burden on our shoulders."
Tickets to attend Flame 2019 on Saturday 2nd March at the SSE Arena are still available. Please e-mail flame@cymfed.org.uk.