by Mariam Khattab, Lucy Hope, Katie Baggott, Georgina Earley and Charlotte Price 
Office for National Statistics (ONS) reported a 13 per cent increase in rough sleepers in the North East, with more than 2,200 people suffering from homelessness across the region.
The statistics were backed by a report from Shelter – the housing and homeless charity – which reported that 320,000 people in Britain are now homeless.
The charity's analysis shows that the homelessness crisis numbers are on the rise with an increase of 13,000 more homeless people added in just one year.
According to the ONS, the North East has 51 rough sleepers – rising from 45 in 2016.
More figures from the Official Government Statistics reveal that more than 120,000 children were found to be homeless in 2018, with a rise of five per cent from the previous year.
Below, is an infographic detailing the statistics gathered by Shelter on the issue of homelessness in the North East of England.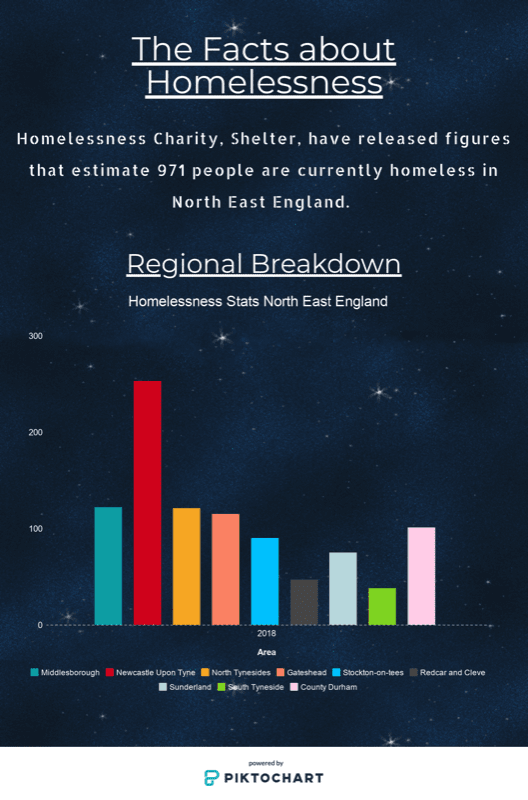 SR News spoke to The Salvation Army, an active UK Christian Church with a number of bases in the North East, who act as hosts for homeless individuals and families seeking temporary shelter and sustenance.
The Salvation Army aims to help tackle issues surrounding homelessness. They employ professionals in the sector as well as previous residents who have turned their lives around.
Craig Hilton was homeless for 15 months due to battling addiction and marital issues, before he eventually started to work at Sunderland's Salvation Army residence, Swan Lodge.
Craig, now an administrator at the Salvation Army, works on helping homeless people find shelter and improve their quality of life.
He said: "Through the support and the belief that I received when I was living here 10 years ago, I am now part of the managing team.  This experience has helped me show empathy to others because I can say, you know what? I have sat in that chair before.
"These people have got nowhere to stay. We work with people who have not just one issue, but multiple issues. It could be addiction, it could be mental health, it could be offending, it could be self harm, it could be neglect or it could be all of those put together.
"I hate to put a criteria on who comes in because people are people, and first and foremost, we love them.
"Some of the people here really need someone who genuinely cares about them. We just give them some time, actually listen to them.  They made their choices, and it might be a bad choice on top of a bad choice and another bad choice but hey, haven't we all?"
Below is a map showing the different locations of the Salvation Army in the North East.
 The Salvation Army also offers food bank services across the region, with bases like Austin House, which works as a social gathering space for the less fortunate and the homeless.
Graham Wharton, project manager at the Salvation Army's Austin House, said:
"During term times, we do five breakfast clubs for families that are principally for youngsters. When it comes to holiday time, there's a scheme operating in Sunderland that's called Holiday Hunger where we set up lunch clubs, so we can take some of the pressure off parents.
"Going to the food parcels, we try not to do many self-referrals. We've got a questionnaire that we go through that asks why do you need the food parcel, where are you living and are you working for anybody?"
Other charities like Centrepoint, provide accommodation, health support and life skills to young homeless people aged 16 to 25 years old.  
Director of Housing and Support at Centrepoint, Martin Gill, said: "Centrepoint is Britain's leading youth homelessness charity.
"We provide housing for over 1400 young people across the North East, North West, Yorkshire and London.
"Our main aim is to provide the skills for young people to be able to obtain a home and a job for themselves and to be to able to live full aspirational lives out in the community."
The ONS' statistics recorded that in 2017, the North East had four rough sleepers ageing between 18-25, out of 366 young rough sleepers across England.
To raise awareness of the homelessness crisis, an event was held at the Stadium of Light in Sunderland, with a number of supporting celebrities, organising a sleep out night at stadium's grounds.
Among the participating celebrities was Nathan Henry, the Geordie Shore reality TV star, who said that a lot of people wrongly think that all homeless people are "old and drunks."
He said: "Homelessness can happen to anyone and it is important to try to help.
"I just think everyone deserves a second chance and I think it is important for me to use the platform I've got to do stuff like that.
"I think that more things should be put in place by the government and the council for homeless people."
Listen to full interview from the event:
You can also visit the SRNews Soundcloud page to listen to the interviews with Craig Hilton from Swan Lodge (first), a Swan Lodge food bank user (second) and Martin Gill, Director of Housing and Support at Centrepoint (third):