Tributes are pouring in for Dianne Oxberry, the Sunderland-born television and radio presenter, who died, aged 51, of cancer on Thursday, 10 January.
Oxberry worked on Radio 1 alongside Steve Wright and Simon Mayo before retraining as a meteorologist. She went on to present the weather for the regional BBC show North West Tonight for more than 20 years. BBC North West broke the news themselves on Twitter:
We have some very sad news this morning, our colleague and friend Dianne Oxberry has died after a short illness.
Our thoughts are with her family and friends. https://t.co/Ujip1c1SOG pic.twitter.com/NjXTcDQZPK

— BBC North West (@BBCNWT) January 11, 2019
A flood of tributes followed the announcement, reflecting the popularity of a broadcaster whose work touched the lives of a region and a nation.
Dan Walker, of BBC Breakfast, tweeted:
"What a special person Dianne Oxberry was. I was privileged enough to work with her on @BBCNWT and she was as loved and admired in the office as she was by the viewers. Whenever you were on location everyone would tell you how much they enjoyed watching Dianne. Such sad news."
Meanwhile, Philip Scofield, a current co-presenter of ITV's 'This Morning' programme, said: "She was such a wonderful, kind, funny and talented woman. All my love to her family, friends and colleagues."
The popular English physicist, presenter and academic Brian Cox, originally of Oldham, Lancashire, tweeted: "Anyone who has lived in the North West over the last 20 years or so will know what a superb broadcaster she was."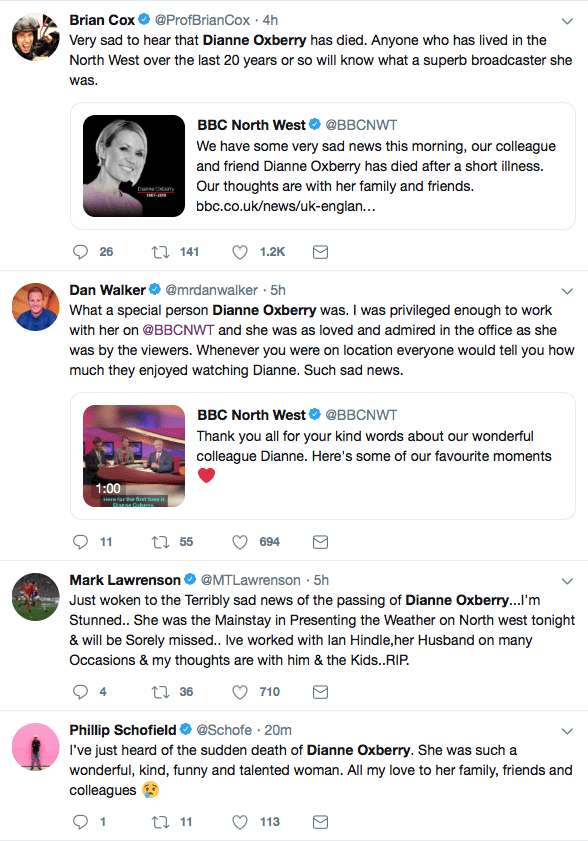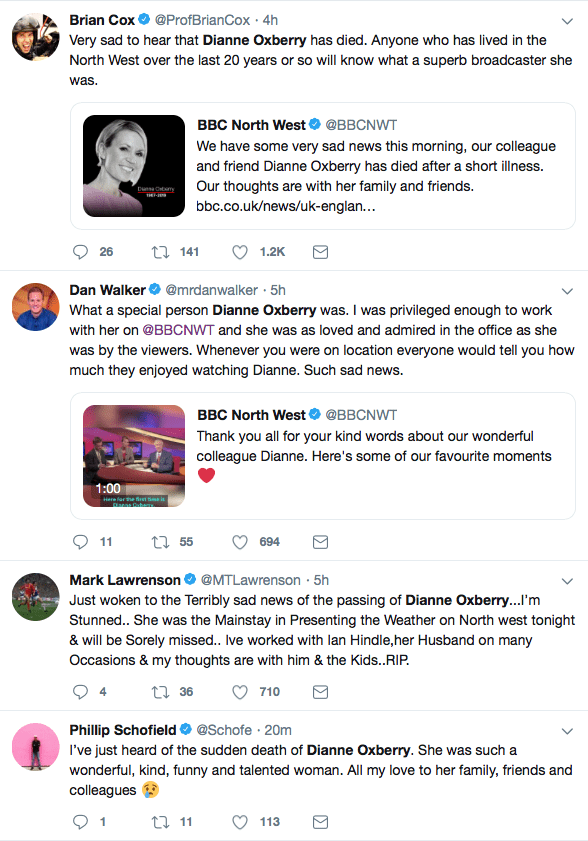 The presenter married cameraman Ian Hindle in Sunderland in 1993. The couple had two young children together and had been living in Sale, Cheshire. She died in Christie Hospital, Manchester, after a short period of illness.