Spark FM and Sunderland University enjoyed a successful night at this year's Student Radio Awards in London.
Spark, with seven nominations in 16 categories, won gold awards for Best Interview and Best Speech Programming and took silver for Best Specialist Show.
Emma Casson, an MA Radio graduate at the University of Sunderland, collected her awards for Best Interview and Best Speech Programming for 'Alice's Story'.
Emma said:
"It's amazing to see something you have worked so hard on be recognised by industry professionals. Alice's story had a massive impact on me and is a story very close to my heart.
"My interview with her flatmate, Maxine, was one of the hardest interviews I have had to. It was less than a year after Alice's death and it was incredibly emotional. To be recognised for these really means a lot."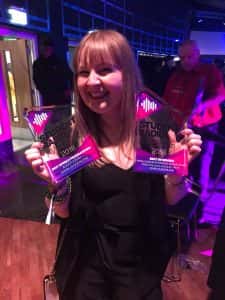 Stuart Russell, another MA Radio graduate from the university, won Best Podcast for 'Poetical' and also took the Kevin Greening award, which recognises unique, on-air creativity.  Stuart Said:
"The awards are incredible. As someone whose work is highly creative and very experimental, it often goes unrecognized.

"My aim is always to push radio beyond what it already is and the University have helped me in achieving that goal."