A North Tyneside litter hotspot has finally been cleared up, despite continuing confusion over local government responsibility for the area.
Earlier this week, Nexus, the local authority running public transport, sent a litter-picker to the site behind the westward platform of Howdon Metro Station. The area had become a common target for fly-tipping and everyday littering.
By 10:30am, the Nexus worker at the scene confirmed he had already filled 20 refuse sacks and taken them, along with abandoned rugs and television sets, to the local tip; soon after returning, a further 12 sacks were filled and in the van.
The worker said that the area hadn't been cleaned in at least three years, possibly even longer.  When asked how he could be sure, the worker stated: "I've picked up rubbish from 1990 this morning."
Having only been given three hours by Nexus to clear it up, the worker said he had "no chance".  The worker also claimed the area was "nothing to do with us," and Nexus were only doing it "as a favour" to the local council.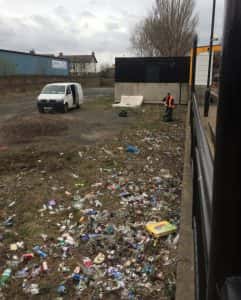 When John Harrison, a North Tyneside Councillor, was first contacted about the troubled litter spot in February, he had this to say:
"As a regular user of the metro at Howdon Station I have had a good look around and agree with the concerns.  I will forward it onto the relevant officers to deal with."
In early March, as the litter continued to accumulate, the councillor further clarified the action he had taken.
"I have forwarded the enquiry to Nexus, as they own the land, and have asked if they can have a look at this and hopefully get the area cleaned up."
However, when Nexus commented on the matter earlier this week, their statement was unequivocal:
"Nexus is only strictly responsible for the clearance of litter on Metro property, stations and trackside areas.  All other areas in and around Metro stations are the responsibility of the local authority."
While Councillor Harrison would not be drawn into commenting on the matter further, Nexus returned to the area on Wednesday to complete the clearing up as part of their apparent goodwill gesture.
It remains unclear as to who will be responsible for keeping the area tidy in the future.