Mortimer Community College is where you'll see players from South Shields Football Club, who have set up a football programme called The Wizards aimed at young children.
Managers and players both past and present from South Shields formed the club last year, with the aim of helping them develop physical as well as mental skills.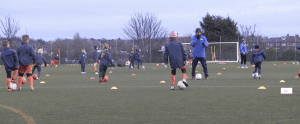 Amongst the coaches, is former Sunderland and Middlesbrough player, Julio Arca, as well as former South Shields manager Jon King, who explains why he created the programme:
"I've always had a passion for football, since I was a child. I was lucky enough to go away to a professional club and do it as a living for a few years as well, so football has always been a passion of mine and so I am just looking to pass on my knowledge to the young children of South Tyneside. South Shields Football Club is doing really well. One of our coaches is Julio Arca and I think it's great that children can look at people and footballers if you like that aren't necessarily in the limelight or on the TV, you can see them on the doorstep, playing for South Shields or Jarrow Roofing or playing for Hebburn, you know the children can see you doing that so it's good for them to be involved with coaches like that."
In May last year, South Shields FC brought home the FA Vase from Wembley after The Mariners won 4-0 against Cleethorpes Town with goals from Carl Finnigan, Dillon Morse and David Foley. More recently South Shields secured a third successive promotion at a lively Mariners Park with a comfortable 3-0 win over Glossop North End on April 17.
The Wizards, which was formed last year, is part of Sports King Coaching which currently have two Wizard programmes set up in Tyne and Wear with the other being held at various locations in Sunderland.
Check out the video below for more.