Friends Fest, hosted by Comedy Central, has travelled all over the UK in previous years and is now on its way to the North East this summer.
From 20th-29th July guests can see a number of iconic sets from the show at Castle Farm Fields in Newcastle, including full sets of Monica's apartment, Joey and Chandler's apartment and Central Perk.
For those who don't know where Castle Farm Fields is, here is a handy map:
Two new sets have also been added including Ross' apartment and the stairway of the much-loved 'PIVOT' scene.
Costumes will also be provided so truly devoted fans can take the perfect picture to remember the event and even recreate the famous opening titles.
There will also be other activities for Friends fans to enjoy, including Friends themed food stalls, a cocktail bar and a quiz; along with a TV screen playing some of the best moments from the show.
Amanda Browne, Head of PR and International Events at Comedy Central UK, said: "The event has been incredibly successful in other cities across the UK, completely selling out every year."
Fans are encouraged to get their tickets early, as they are sure to sell out fast.
Vicki Pringle, 32, is a big fan of the show and said "I've loved friends since the very first episode and didn't expect Friends Fest to come to Newcastle, I'm so pleased it is!
"I booked my tickets this morning after pre-ordering them" Vicki said.
Amie Slack, another fan, said that she is "over the moon" that the event is coming to the North East "nothing fun ever comes up here so it makes a change.
"I went to the one in Sheffield last year," added Amie. "It was amazing!"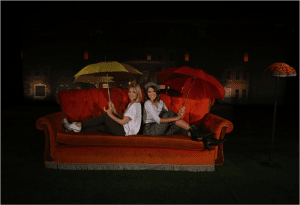 Tickets go on sale Friday 29th March and cost £27.50.
More information, including information on how to book tickets for the event, can be found on their website.