A school is refusing a mother permission to take her two children out of school to attend her wedding. 
The school's decision was made following a well-publicised Supreme Court ruling that once again tightened pupil absence.  Exceptional circumstance is now the only reason under which headteachers will grant a pupil unauthorised leave of absence.  Parents face fines of £60 for each child taken out of school, rising to £120 for each child if the original fine is not paid within 21 days.
 Jo Mitchell, 42, from Hartlepool, feels as though one of the happiest days of her life has been tainted.  She has been informed that her two children, who both attend High Tunstall College of Science in Hartlepool, will not be granted permission to attend her wedding.  Jo's two children from a previous marriage, Amelia, 15, and Ben, 13, both have a 100 per cent attendance record.
Jo explained: "The school has told me the request would be classified as a holiday in line with the Government legislation and not under the exceptional circumstances category.  The absence would therefore be classified as unauthorised and go against both Ben and Amelia's absence records.  We have been saving up and planning our wedding in Crete for two years now and I never thought for a minute the school would behave like this."
The recent Supreme Court decision to uphold the Government position on unauthorised absence has once again made school attendance a major talking point.  The justice system had been in the public focus since parent Jon Platt won his High Court appeal over taking his daughter on holiday during term time.  Mr Platt had argued that the existing law only required him to provide his daughter attended school 'regularly'.  This opened the flood gates for parents to book cheaper family term time holidays, before the Government successfully challenged the ruling at the highest court in the land.  Parents have criticised the decision, arguing it doesn't really make that much difference if their child misses a few days here and there.  This has led to headteachers having to police invisible Government policy and local authorities performing as judges and fine collectors.
Following the Supreme Court ruling, schools can only grant potential unauthorised absence in exceptional circumstances.  However, the Government are yet to sufficiently outline what these exceptional circumstances entail.  As no relevant legislation has been forthcoming from the Department of Education, headteachers and local authorities have found themselves having to interpret the legal decision.  This has led to the headteachers' union having to step in and provide guidance to headteachers.
High Tunstall College of Science's Attendance and Safeguarding officer, Nicola Benson, said: "We have not agreed to grant any pupil absence under the exceptional circumstances rule.   We have however, referred five families to the local authority for taking their children on holiday during term time this year."
Evidence gathered under a freedom of information request, clearly shows year on year increases in the number of prosecutions among North East local authorities.  Interestingly, there is evidence of some authorities tapering back prosecutions following the High Court judgement.  This is shown where Middlesbrough Council had suspended issuing fines for school unauthorised holidays, down 15 per cent on the previous year, while the DfE looked desperately to tighten regulations.  This indecision was further compounded by parents believing they now had the law supporting those booking cheaper holidays during term time.
Of the local authorities which responded to the FOI request, Durham County Council showed the greatest year-on-year increase in numbers of fines issued, with a 1,020 per cent increase between 2013 and 2017.  This culminated in the authority receiving £57,780 during 2016-17 in revenue from the fines.  Sunderland Council, who had followed Middlesbrough and suspended issuing fines during 2016, saw the greatest percentage yearly increase of 330 per cent, generating £6,600 for the council.  Hartlepool Borough Council, the council Jo's children fall under, issued 54 penalty notices during 2016-17.  This is an increase of 186 per cent on the previous year, generating £3,240 to be spent on education within the authority.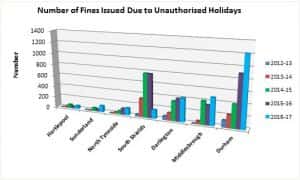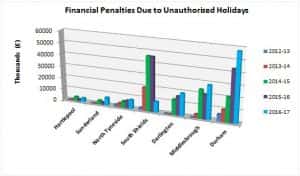 Many parents will see these year-on-year increases as an inconvenience, believing headteachers should be discreetly allowing children time off.  What could be more concerning is the effect absences are having on their education.  Following the High Court judgement the DfE said: "The evidence is clear that every extra day of school missed can affect a pupil's chance of gaining good GCSEs, which has a lasting effect on their life chances."   Under a further FOI request, data from Hartlepool Borough Council showed startling statistics in support of the Government statement.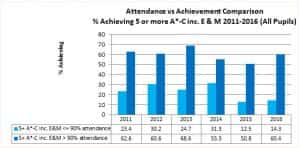 Hartlepool secondary school attendance versus achievement 2011-2016
In 2016, of those pupils who had over a 90 per cent attendance rate, 60.4 per cent achieved 5 or more A*-C grades.  In contrast, of those pupils with less than 90 per cent attendance, only 14.3 per cent achieved 5 or more A*-C grades, a difference of 46.1 per cent.
Clearly pupil attendance matters, but despite this the data shows the number of parents taking their children out of school continues to increase.  Jo provided the final word when she said: "I don't know if any further action will be taken against me, but I am taking my children out of school for my wedding."