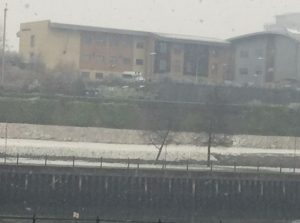 Students get half day off at Sunderland University on the 28th February as it closed at midday due to the adverse weather conditions.
Some of the students were already scheduled to have a day off on Wednesday and some of the students had their classes called off.
The snow blizzards have been causing slippery roads and footpaths to the already snow covered areas which prevents many students and staff from commuting into the university and the rest of Sunderland.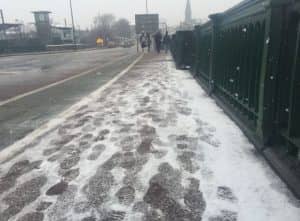 The snow has also caused disruptions to many services, transport and vehicles in the area.
Sunderland Royal Hospital has had staff staying over in order to look after the patients overnight.
Deputy Chief Executive of City Hospitals, Carol Harries said: "We had 15 staff stay at the hospital on Wednesday night and 17 last night.  We collected in 4x4s and 37 yesterday (Thursday).  We also had staff who were brought in by the public.  Staff also made food hampers for those staying over and our local Tesco sent a food delivery.  Our catering team also provided breakfast for those who stayed.  Some staff on night shift have worked longer hours to allow colleagues more time to travel safely.  The trust is also supporting those who live in some of the more adversely affected areas by using 4×4 vehicles to collect staff who are unable to access transport and offering overnight accommodation to key clinical staff who would otherwise struggle to get home."
During this snowy period travelling routes have also been affected so Sunderland Council have been helping to clear the snow to make routes commutable.
Sunderland Council's, City and Neighbourhood Department, Bradie Grant, said: "On Tuesday night the men worked their way round all night to clear the priority 1 routes- Chester Road, Railway Row, Hylton Road and many others.  First they will clear priority 1 routes and then they will clear priority 2 routes- St. Marks Road, Cleveland Road.  These are mostly clear now."
Train route have also been affected by the snow, some even cancelled due to the snow blizzards.
Nexus Metro Customer Advisor, Natalie, said: "There will be no trains from Pelaw to South Hylton in either direction due to the limited number of trains and the on-going points failures.  Metro tickets can be used on Northern Rail services between Sunderland and Newcastle."