Concerns about the future of city centre shopping comes after a North-East fashion store announced it is closing down.
Andersons, a country clothing store on Saddler Street, Durham ,will close but its footwear store in the indoor market will remain open.
It's a further blow to the retail sector in the city centre after it was announced that M&S plan to shut their Silver Street Store.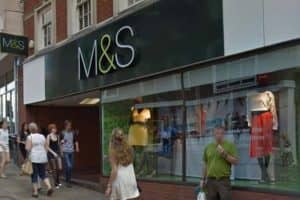 During the early festive period, there was a steep decline in sales and trading at the Durham store. There was a 2.8 per cent fall and a decline in store purchases in its food hall, which left sales 0.4 per cent lower over the 13 weeks up to December 30.
The store on Silver Street will close as a result of poor trading and M&S over last Christmas will encourage customers to shop in retail parks. However there, will be a click and collect service online for customers.
CEO of Durham Business Group, Alison Gittins said: "It's sad news that this store closing as I personally shop in Durham.  The staff in this shop are very friendly and it's a very popular store.  There are more people heading towards the retail parks so not a lot of people will go to the city centres."
It has also been revealed that East in Silver Street faces an uncertain future after the company went into administration nationwide.
A spokesperson for the Durham Store said: "We have gone into administration but we will still be trading in store."  It cannot confirm whether this store will close.
Labour MP for the City of Durham, Roberta Blackman Woods has very recently attended meetings about the closure of the M&S shop.
She said: "Durham council has contributed and worked very hard towards keeping the Silver Street store open and ensuring that the other stores do well."
Head of Region for the North East of England's M&S, Lindsay Austin said: "Closing our store in Durham City centre is not a decision we have taken lightly.  We value the loyalty of our customers in the area and know that some of them will be disappointed by the news.  I'm pleased our colleagues from the store will be staying with us and we are committed to delivering the very best of M&S for our customers from nearby stores."
A total of 48 colleagues who work at the shop will now be moving to continue working with M&S in Durham at nearby stores.  Staff will be relocating to other stores in the Arnison Centre, Bishop Auckland, Washington Galleries, Gateshead Team Valley,  Sunderland and the Metro Centre.
Despite the closure, M&S said in a statement "They are always committed to continue serving customers in County Durham through its other locations including the store at the Arnison Centre in the Retail Park."
Director of Retail at Marks & Spencer, Sacha Berendji said: "We're committed to transforming M&S for customers and shareholders.  Stores will always be an integral part of our customer experience alongside M&S.com but we have to ensure we have the right to offer in the right locations."