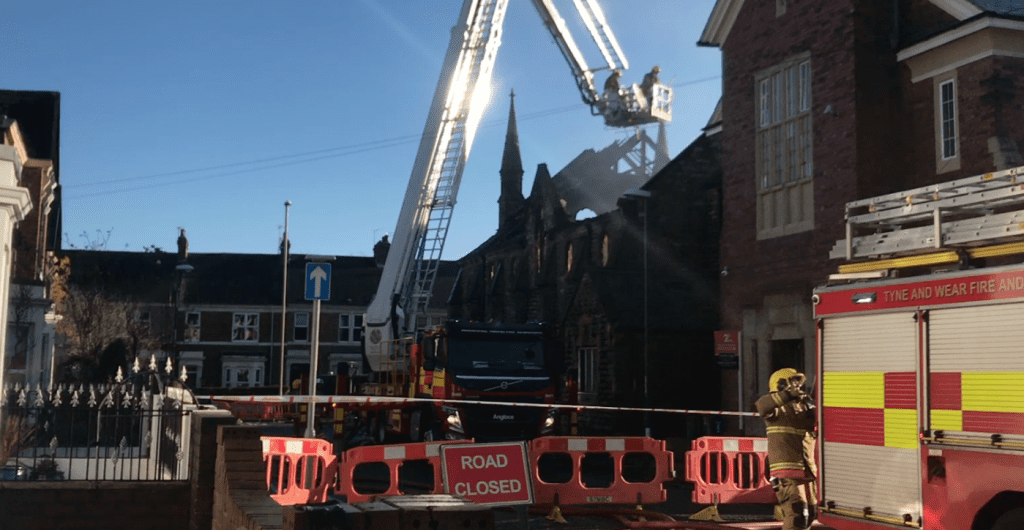 A fire that broke out at a former church in Jarrow has taken more than eight hours to put out.
The Jarrow Auction Rooms, located on Bede Burn Road caught fire in the early hours of Friday morning, with a total of 44 firefighters were sent to the scene at 4.00am.
The cause is still unknown and an investigation is now under way.
Owner of the auction rooms Brian Cairns, 55, has been at the premises all day with his girlfriend watching the fire being extinguished.
He said: "I got a phone call last night at two o'clock and I came straight down here and there was smoke coming out. We haven't got a clue how it started I think forensics are on their way now."
He now feels that fundraising may be the only hope to save his business.
"It's a beautiful building and I would like to gather the funds so that it could be like what it was."
The road that the building is on has been closed while emergency services are on the scene, and Traffic is being diverted to Reed Street.
Mark Gerrard, Group Manager of the Tyne and Wear Fire and Rescue Service said: "In [the] early hours of this morning ten appliances and two special appliances were called to a significant structural fire that took place in a former church in Jarrow.
"The church is currently being used as an auction room, obviously this is a serious structural fire and we are currently still on site, thankfully there have been no reported injuries.
"I would like to take this opportunity to praise all our operational crew who attended and all the emergency crews who helped to restrict the spread of the fire to only the building of origin. A thorough investigation will commence today depending on the structural safety of the building."
The church — that is over 100 years old — will not be up and running for some time.