"We are a theatre company that aims to change the world one play at a time". This is what Catrina McHugh from Open Clasp Theatre Company hopes to achieve.
Rattle Snake is a epic tale based on real life stories of women who have faced and survived coercive controlling domestic abuse.
Coinciding with the change in UK law in 2015 making coercive control in relationships a crime, Rattle Snake was originally commissioned by Durham University and Constabulary.
It was funded by Durham Police Crime Commissioning Service and the Arts and Humanities Research Council and is used in the training of frontline police officers.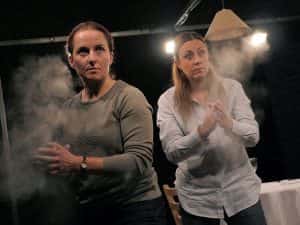 (Photo credit: Open Clasp Theatre Company)
Catrina said: "We collaborate with women and girls and create professional pieces of theatre that tour community and mainstream theatres, nationally and internationally."
Rattle Snake was performed last night at the Royalty Theatre, Sunderland in Sunderland Stages, as part of their Winter theatre season.
Katrina added: "We actively collaborate and partner with as many local charities and organisations as we can to actively make change happen".
You can view more information about Open Clasp theatre events at 'www.openclasp.org.uk'