Sunderland's New Wear Crossing is nearing completion as 28 cables were installed today (15th August) giving the bridge its distinctive new look.
SRNews spoke to Tim Sullivan from Burohappold Engineering, who explained what work was being done to the structure.

28 cable stays in total were being installed in pairs North and South of the central pylon. The pylon is said to stand twice as high as the Gateshead Millennium Bridge once it has been completed. The cables which are being installed are fixed at the deck of the bridge and adjusted in the pylon to lift the deck off its temporary supports.
Each cable is contained inside of a white protective tube called a sheath. Each tube contains between 44 and 77 strands depending on where it is positioned on the deck. That means that the cable with 77 strands will be tensioned to have the capacity to lift 539 tonnes which is the equivalent of 77 elephants.
In total there are 95km of strands, and if they were laid from end to end they would stretch to Carlisle in the West, Scarborough to the East, or as far North as the Scottish border. The aim of these cables is to adjust the deck to its optimum shape to accommodate the traffic and the bridge itself.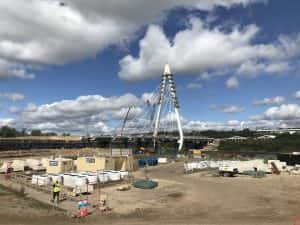 The cables will be stressed to 50% once the concreting of the deck has been completed. This will allow the remaining surfacing and waterproofing to be added before the final stressing to 100% later this year.
The bridge is expected to be completed in Spring 2018.