By Lucy Hope and Fatima Rokib
People have come together to pay their respects to Bradley Lowery outside the Stadium of Light today (July 14) as his funeral took place in his home village of Blackhall Colliery, County Durham.
Sunderland mum, Tina Brannigan, 21, organised the balloon release at the Stadium of Light to honour Bradley's life and show support.
Red and blue balloons were released to honour Bradley, as those were colours closely associated with the youngster.
Brannigan organised the event via Facebook to give those who would not be able to attend his funeral a chance to pay their respects.
Ms Brannigan said: "I didn't think it would be so big, it was amazing. It just shows making an event on social media makes a difference."
Bradley was an avid Sunderland football supporter and during his battle he formed a special bond with player Jermain Defoe. He captured the heart of many players and football fans across the globe.
Bradley was diagnosed with the rare type of childhood cancer called Neuroblastoma when he was 18 months old. His cancer became terminal and he lost his battle on July 7 2017.
If you would like to get involved or make a donation visit Bradley Lowery's Fight Against Neuroblastoma on Facebook.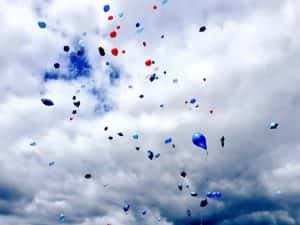 Image by Lucy Hope