Hundreds of Labour party members and interested locals descended upon Newcastle last night to celebrate Jeremy Corbyn's manifesto.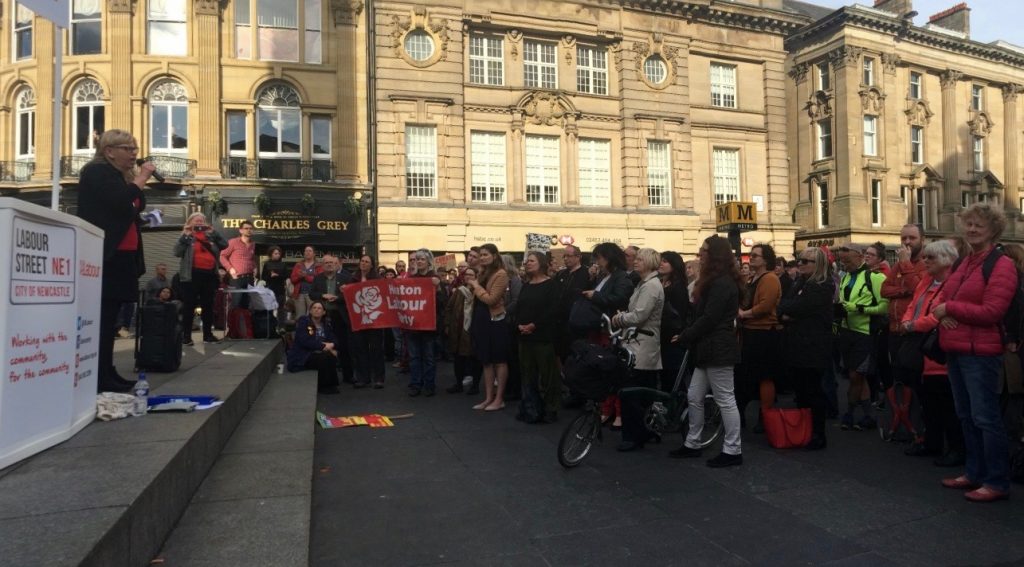 The event included a rally led by Gateshead MP Ian Mearns who broadcasted what the Labour manifesto would mean for the people of the North East.
The manifesto, which promises to eradicate university tuition fees, is what Corbyn describes as:
"A draft for a better future. A blueprint of what Britain could be."
The event, run by political campaigning network, Momentum, is one in a series of events occurring across the region in the run up to the general election.
SR News spoke to South Shields Momentum leader, Keith Hussein, who expressed his views with regards to the general election, Labour's presence in the North East and appealing to younger voters.
"We have a situation that is pretty urgent.
"We need to make a change – far too many people are paid to not put the effort in. Our aim [at Momentum] is to reach as many people as possible and really get people involved with supporting Labour.
"Our government should have brought change for the North East, new industry should have been introduced, jobs and apprenticeships and opportunities for young people but foreign aid was relied upon too heavily and the governments haven't delivered."
The British public are expected to hit the polls on June 8, but Mr. Hussein urges more young people to vote after poor turnout in recent elections.
"Myself and other members have spent days trying to mobilise people using social media to get younger people, as well as older people, involved.
"Younger people have been hit hard in recent elections and it was estimated that only 32% of young people actually voted in the last election, so they're our target audience really," said Mr. Hussein.
"We've definitely hit the ground running. Last Sunday over 75,000 people registered – it shows that people want change."
Momentum will be hosting events across the UK in the next few days with other scheduled events in London, Birmingham and Brighton happening later in the week. More meetings, rallies and gatherings are to be expected soon in the North East.
The general election will take place on June 8 with voters needing to be registered by May 22.
CLICK HERE TO REGISTER TO VOTE