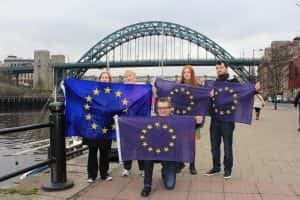 The North East for Europe campaign group is highlighting regional landmarks that would not exist without EU funding.
Many of the North East's iconic buildings and projects have been created and regenerated with money from the European Regional Development Fund (ERDF) which comes from the EU, including:
The Core Science Central in Newcastle that was built with £5.6m of ERDF funding.
Newcastle's Toffee Factory refurbishment received £2.8m in ERDF support funding.
An area on the River Tyne North Bank which benefitted from £2.4 million funding from the ERDF.
Sunderland's Software Centre gained £4.4m in EU funding.
Washington Business Centre, run by Sunderland City Council, got £3.4m in ERDF funding.
According to Newcastle City Council, in Tyne and Wear and Northumberland, the fund provides half the money to invest in innovation, businesses, low carbon and climate change projects, and create jobs.
The anti-Brexit campaign group is taking photos next to some of the North East's key landmarks to highlight how much the region benefits.
Group member, David Hardman said: "There are so many great things that are humbling and inspiring, from the Sage for music to MIMA for art, from Hadrian's Wall and Beamish for history to The National Glass Centre and the Centre for Life for science and learning.
"But it's not just the big things that we need to celebrate.
"The local social club, your kids' playground, the parks and the venues. They all receive benefits from our membership of the EU.
"It's not just funding, it's shared knowledge, it's people, it's our very culture that benefits and we would be fools to throw that away."
Mr Hardman, who moved to the region with his wife more than 30 years ago, added: "So many of [our North East landmarks] would not have existed without the support of the EU.
"Many of them will face enormous challenges if the UK leaves the European Union."
The project comes as the House of Lords backed down over its attempt to change the Brexit Bill that authorises Prime Minister Theresa May to commence formal negotiations to leave the EU.
This means the Conservative leader is one step closer to being able to trigger the two-year withdrawal process.