More than 400 people attended the Red Sky Ball on Friday, March 10, as Sunderland landmarks were lit red for the Children's Heart Unit Fund (CHUF).
The event, held at the Stadium of Light, was organised by Sergio and Emma Petrucci and raised more than £60,000 for the unit at the Freeman Hospital.
The Children's Heart Unit based at the hospital in Newcastle is a specialist centres for children and babies born with, or who develop, heart conditions.
The unit saved Sergio and Emma's daughter Luna's life in 2015.
Mr Petrucci said: "All we are doing is purely to make a difference.
"I can never say it enough, nor can my wife Emma.
"What they did for us and how they treat us during the time that we were there in the hospital was second to none.
"They cared for us, they knew what we were going through.
"At the time we were in a tunnel of darkness and they pretty much mentored us through the emotions that we would expect.
"We were the lucky ones.
"Without the work that the Freeman Hospital did and those doctors and nurses who's to say that Luna wouldn't be here today.
"I am eternally grateful for them."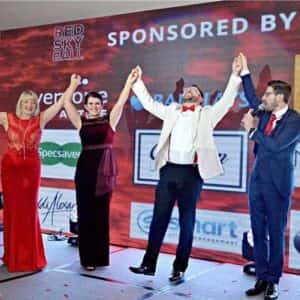 They have raised nearly £110,000 in more than a year for CHUF which will go towards helping families, whose children have heart problems, in the region.
The family would like to keep the Red Sky Ball in Sunderland, but are holding another event at Ramside Hall in Durham later this year.
Last year, the couple raised £47,000 for CHUF which led to Sunderland Royal Hospital being able to purchase a heart scanner.
To celebrate the evening, some of the city's landmarks were turned red on Friday.
Mr Petrucci added: "[We're] just blown away by it. The Empire Theatre got wind of our story last year and adopted us as their charity of the year.
"It's treasured memories. It just goes to show that the people of Wearside do care about emotive things we've gone through and they do back us on everything.
"I really appreciate that."
To find out more about the Red Sky Ball visit the website.