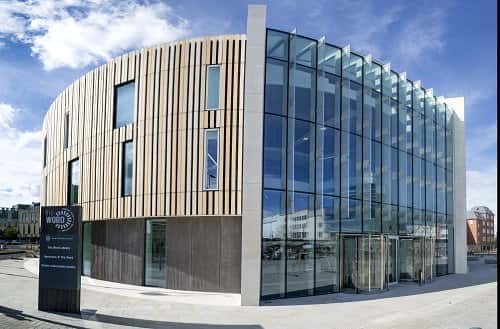 Well known South Shields writer Tom Kelly has talked about how encouraging the National centre for the written word is for the area.
The national centre for the written word opened to the public at South Shields on Saturday October 20.
Part of a £100million investment on South Shields town centre, The Word challenges the typical conventions of a library by adding a large amount of facilities.
These facilities include a cafe, viewing deck with views over the River Tyne and an exhibition space which at the moment is showcasing local movie director Sir Ridley Scott's six most iconic movies.
One notable fan of the new learning centre in South Shields is the writer Tom Kelly, who said: "I think its a fantastic resource for South Tyneside and a beautiful building and hopefully it will generate a lot if interest in young people."
On the topic of what the word will become in the long run, Mr Kelly focused on the younger generation, saying: "It's not only important that they read it is also important that they go to see events, it might be a reading from a writer of a painter talking about their work and if they get inspired by that person and that building then that would be incredible."
Tania Robinson, Head of Marketing communications and Culture for South Tyneside Council said: "At its heart it's a 21st century library, but we took that concept as far as it's possible to take a library.
"We're having a rolling programme of exhibitions, starting in the main exhibition space with the work of Sir Ridley Scott… and on the first floor we've got an exhibition that is celebrating the lost dialects of the North East."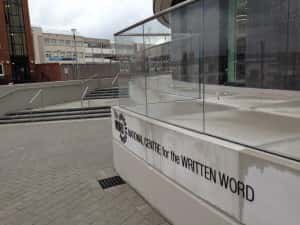 On the topic of the £100million investment in the town, she said: "This is the first stage and the market square has also been regenerated.
"The next thing that is going to happen is a new transport interchange which will make moving around South Shields much better because the current arrangement cuts the town centre in half."
Once The Word opened, the public were welcomed by staff with a round of applause and it didn't take long for the new centre piece of South Shields to fill up with people looking forward to finding out what it has to offer.
Ben Hudson, 61, said: "There was a queue around the market place waiting to get in, I think people are genuinely impressed. The Ridley Scott exhibition is great and hopefully long term there will be enough variation in this building that people will continue to use it on a regular basis."
Alexander Shilling, 68, said: " I think its absolutely fantastic, I've noticed how many children are in today which is a plus. Its about time we had something like this for the future."
Caroline Watkins, 55, said: "Its a nice focal point, I like the building, the design is absolutely gorgeous. I'm hoping this place will bring more children into reading."