Follow our City Snowdog Trail using the map to visit Sunderland's cute and colourful Snowdogs!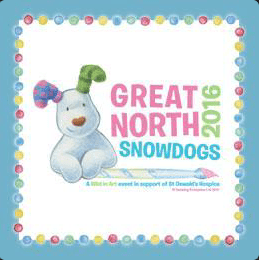 Unless you've been walking around Sunderland city centre with your eyes closed, you will have happened to notice a number of colourful, cool and quirky Snowdog sculptures dotted in various locations.
The Great North Snowdogs display, created by Wild In Art and inspired by Raymond Briggs' The Snowman and the Snowdog, is working alongside the St. Oswald's Children's Hospice to raise funds for the charity.
The trail features sculptures throughout the whole of the North East, on display from September 19 until November 20; with snowdogs popping up in places such as Newcastle, Gateshead and South Shields.
All feature unique designs and original names, the work of award-winning artists and new talent, the dogs are to be auctioned off once the trail comes to an end in December 2016.
We have created our very own 'Sunderland's City Snowdog Trail' for you to track down and visit the best of the Snowdog sculptures in the city centre and its surrounding areas; from the Stadium of Light to Seaburn's Seafront.