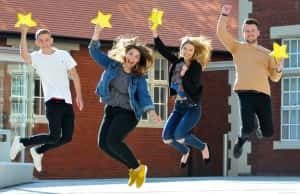 Students from Sunderland College have been successful as they pick up their A Level results today (Thursday, August 18).
The pupils have joined hundreds of thousands of people from across the country who have gained a place at their chosen university.
Sunderland College, which has four campuses across the city, has continued with their 99 per cent pass rate for the eighth consecutive year.
Nigel Harrett, deputy principal of the college, said: "The students have done really well here. Many of the students have got the required grades to get onto their university choices.
"Some students have done significantly better than expected and they are now upgrading to other universities.
"We've done fantastically well. The students are really enthusiastic, pleased and happy at moving on to the next stage of their lives."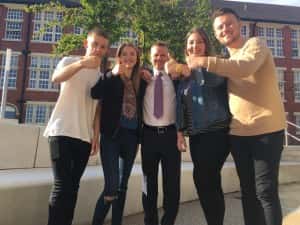 John Rushworth, a curriculum director at Sunderland College added: "We're absolutely delighted. A big well done to all of our hard working staff and students."
More than 650 students received their results at the college, the largest provider of A Level courses in the region; among them was Owen Underwood.
The 18-year-old achieved an two A*'s in Maths and Further Maths and an A in Physics and is now going to study a three-year degree in Engineering at the University of Cambridge.
"I'm really pleased I got the results I needed to get in.
"I've studied for two years at the college and my main motivation was getting to today, so it feels slightly surreal," Mr Underwood said.
The student from Barnes, Sunderland, who is the first member of his family to go to university, added: "My parents and brother didn't go to university.
"I spoke to my dad who works away and he is really proud."
Michael Brigham, 18 also picked up his A-Level results at the Arts Academy on the college's Bede Campus.
Mr Brigham has gained a place at the University of Leeds to study Microbiology after getting an A* in Biology, an A in Maths and a B in Chemistry.
As well as this, he gained an A in his Extended Project.
The teenager from Seaham said: "I'm really excited. I can't wait to go to university.
"I'm really pleased and so proud of myself for achieving such good results after putting so much hard work in.
"My family are all over the moon – mum's even been a bit emotional – but now we all know it's such a relief."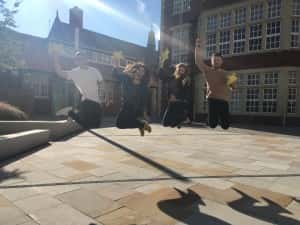 In total, 21 A Level subjects at the college achieved a 100 per cent pass rate including Physics, English Language and Literature, Geography, History, Media Studies, Physical Education (PE) and Performing Arts.
Deputy principal of the Mr Harrett added: "We've seen tremendous success right across the board, for both A-Levels and vocational qualifications this year and we feel that we are only getting stronger."
18-year-old Anna Walton passed all of her subjects and is staying close to home to study Maths at Newcastle University.
"I got an A* in Maths, an A in Further Maths and a B in Physics. I also got an A in my extended project.
"It's what I needed so I'm glad. I'm really excited but nervous as well.
"I'm nervous to move away really even though I only live in Sunderland now."
Many students will be celebrating their A-Level results tonight – and Emma McGrory, 18 is celebrating with a holiday to Turkey.
The student from Jarrow got a B in Geography, a B in sociology and a D in English Literature.
However, Ms McGrory did get an A in her extended project; leading her to a place at Northumbria University to study Physical Geography.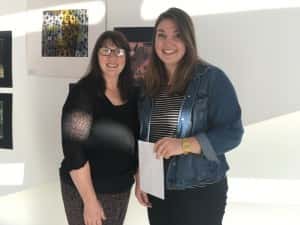 Maria McGrory, who went with her daughter to pick up her results, said: "I'm over the moon, it's fantastic. Emma's worked so hard and she's got the results that she needs to go to Northumbria. We're over the moon."
Provisional figures show that the percentage of A*-E passes at the sixth forms of St Aidan's and St Anthony's in Sunderland, and St Robert's in Washington and Grindon Hall Christian School as well as at Sunderland College is 98 per cent.
This is nor an increase or decrease as in 2015, the figure was 98 per cent.
The percentage of grade A*-C passes in 2016 is 70 per cent, which has decreased from 2015 when the figure was 73 per cent.
Eighteen per cent of students received an A* or A grade.
Organisations across the city have congratulated the class of 2016.
Councillor Harry Trueman, deputy leader of Sunderland City Council, said: "Students taking A-levels in Sunderland continue to work hard and make the grade.
"Results and good grades are being achieved and successes are down to a lot of team work as students, tutors, teachers and families support each other.
"Well done to all and this year's A-level students can now look to further choices in education or in the world of work where there are vocational and training options.
"I'd would like to wish all students good luck in the future as they make more decisions about work and further studies."
Paul Carbert, policy advisor at the North East England Chamber of Commerce, added: "It is great news that our region has achieved the highest proportion of A level passes in relation to the whole country.
"I urge these students to think carefully about their next steps and fully evaluate all the options available to them.
"In the North East we are fortunate as there are a great number of opportunities for young people, from university or college to apprenticeships in a range of sectors.