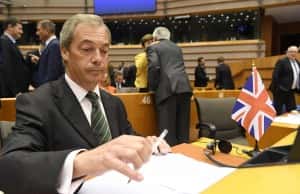 Nigel Farage has resigned from his position as leader of the UK Independence Party (UKIP) stating "I want my life back."
Mr Farage's resignation comes following last month's vote to leave the European Union (EU), which he declared the United Kingdom's Independence Day.
In a speech in London he said: "During the referendum campaign, I said I want my country back.
"What I'm saying today is I want my life back, and it begins right now."
The UKIP member of the European Parliament campaigned to leave the EU in the region during the lead up to the referendum.
He visited Newcastle weeks before the polls opened and whilst votes were being declared in the North East he showed his delight with the majority of the region voting Leave.
So happy with the results in North East England. Pleased that our last rally was in Gateshead. #EUref

— Nigel Farage (@Nigel_Farage) June 24, 2016
But, the MEP for the South East of England has quit his leadership position before, after failing to win a Commons seat in the 2015 general election.
However, he affirmed in his speech that he had achieved the aim for which he went into politics and said: "I won't change my mind again, I can promise you."
Mr Farage acknowledged that the decision to quit had not been an easy one.
"I do feel a degree of part-ownership of the Ukip brand and the journey we've been on.
"Letting go of that is not an easy thing to do but I think right now it's the right thing to do."
He also ruled out standing for election to the Commons in 2020 commenting that it was not on "bucket list".
His successor will be in place by the time UKIP holds it's conference in September but the former-leader is keeping "very quiet" about who it might be.
Douglas Carswell, the party's only MP has ruled himself out of a leadership bid, while UKIP's deputy leader Paul Nuttall indicated he was taking soundings with fellow MEPs and the party's national executive committee about a bid to replace Mr Farage.
Despite this, Mr Farage said if there was a failure to deliver a Brexit deal that met the promises offered during the campaign then "Ukip's best days have yet to come" with the prospect of major gains in 2020.
He said the next prime minister should be a Brexit-backer but "I'm not going to damn any one of them by offering my support", adding that he would keep up the pressure in Brussels as a member of the European Parliament.
"There will be a strong Ukip voice in that parliament during the negotiations.
"If we see significant backsliding or weakness or, frankly, appeasement from the British government, we will certainly say so."
The MEP indicated that he would like UKIP to be represented in the negotiations with Brussels and highlighted his own experience for the job.
"I have no idea whether they want to ask me or anybody else in UKIP to be part of this.
"But we do actually as a party have some good knowledge of how Brussels works and we have got some pretty senior business figures amongst our supporters."
Mr Farage added: "I'm not putting myself forward.
"I did spend 20 years in business and I have spent a lot of time in Brussels, I might have something to give if they want it. If they don't, that's fine."
However, Suzanne Evans, the party's former deputy chairman, has been tipped for the leadership.
Ms Evans is currently suspended after speaking out against a UKIP candidate over allegations of homophobia.
She told BBC Radio 4's World At One that it was "nigh on impossible" for her to stand because of the suspension.
"I challenged homophobia in the party and as a result that was seen as somehow disloyal, something that still completely mystifies me, but we are where we are," she said.
Ms Evans added: "I was suspended back in March for six months so I believe – although I'm hearing that the rules might have changed for people standing for the leadership election – but I understand that would effectively put me out of the running."
What do you think UKIP's future looks like post-Farage? Let us know @SRNewsNow on Twitter or SR News on Facebook.