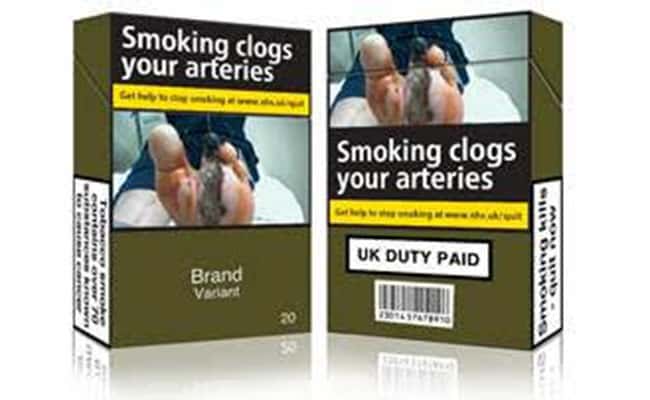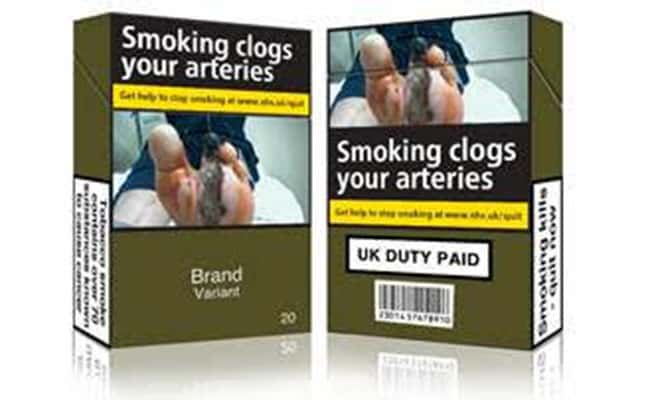 Cigarettes are being sold in standardised green packaging bearing graphic warnings of the dangers of smoking from today, under new rules designed to prevent young people taking up the habit.
All packs must contain a minimum of 20 cigarettes to make sure the packs are big enough for health warnings to cover 65 per cent of the front and back, with the brand name restricted to a standard size, font and colour.
The EU Tobacco Products Directive has allowed the UK to go further with its regulations to require all tobacco packaging to be uniformly green with large images showing the harmful effects of smoking.
Packaging of hand-rolled tobacco must also be in the same drab green colour and contain a minimum of 30g of tobacco.
Richard Ferry, from the North East Trading Standards Association, said: "Tobacco is the only product on our shelves that kills half of its long term customers when it is used exactly how the manufacturers intend.
"It is a lethal product that up until now has been sold in packaging that disguises the harm it causes. It is logical and necessary that tobacco packs and larger health warnings should reflect the many fatal diseases that smoking causes. 15 people still die every day from smoking in the North East and it has a massive impact on health and wellbeing.
"Nationally the Trading Standards Institute and regionally local enforcement teams supported standardised packs. Like other measures there has been clear evidence standardised packs would reduce the attractiveness of a harmful product to improve public health and protect children."
The companies now have a year to sell old stock and fully implement the changes under the directive, which was adopted in 2014 but has been held up by a series of court cases testing its legality.
It includes a ban on menthol cigarettes from 2020 and promotional statements such as "this product is free of additives" or "is less harmful than other brands".
The new rules are an attempt to cut the number of smokers across the EU by 2.4 million.
Louise Morris, a former smoker from Newcastle, has supported calls for standardised packaging on tobacco products for a number of years as she believes cigarette packs have been positioned to be attractive to young people for too long.
She said: "I fully support the introduction of standardised packs as it will mean cigarettes aren't going to be a status symbol anymore, they're not going to be a fashionable product, people won't want to show them off or show what brand they smoke.
"You pull out a plain packet and it can be any brand at all. Smoking is not going to be as attractive to young people because they haven't got something that looks good anymore."
John McClurey, an independent newsagent with a shop in Newcastle and a member of Gateshead Council, said: "Working more than 30 years behind the counter, I have seen how the marketing tactics of the big tobacco machine works. I have seen how new tobacco products in bright, attractive packaging come in and the way they appeal to young people.
"I am certain that the introduction of standardised plain packaging of tobacco products will reduce the appeal and help lower the temptation for more children to start smoking. I don't anticipate plain packs to have a major impact on small businesses like mine. In reality, most traders rely less and less on tobacco profits since the gross profit is so small."
An estimated 700,000 premature deaths are caused each year, and cancer charities are backing the measures.
British Lung Foundation chief executive Dr Penny Woods said: "For too long glitzy, cleverly designed packaging has lured young people into smoking, a habit that takes the lives of half of all long-term smokers.
"Australia introduced plain packaging in 2012 and has already seen a decline in smoking rates. If just a fraction of the 200,000 children in the UK who start smoking a year are discouraged, thousands of lives will be saved."
Dr David Hambleton, Chief Executive of South Tyneside Clinical Commissioning Group and Chair of the Northern CCG Forum, said: "Smoking is the single biggest primary cause of preventable illness and premature death in the North East, as well as the main cause of inequality in death rates between rich and poor. For every death caused by smoking approximately 20 smokers are suffering from a smoking related disease."
Now that tobacco advertising and sponsorship is prohibited, tobacco packaging has become one of the tobacco industry's leading promotional tools. The aim of standardised packs is:
To make tobacco packaging less attractive, particularly to children
Increase the prominence of health warnings
Remove any misconception that one brand of tobacco is more or less harmful than another. At one time colours like white and silver were used by the tobacco industry on packs labelled "lights" or "milds". These terms were banned since they did not reduce the health risks but the colours still remain.