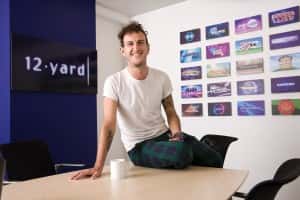 University of Sunderland Broadcast Media Production graduate, Adam Ferrari, talks about his BAFTA success for his work on the production team of the Channel 4 hit series, First Dates.
The successful dating show with its simple, yet effective concept proved love really does conquer all, beating the likes of Gogglebox and I'm A Celebrity to take home the accolade in the Reality and Constructed Factual category at this year's House of Fraser British Academy Television Awards.
Adam, who has been working on the production team for First Dates for the past couple of years, says of the win: "The BAFTA was something that we've hoped for since the beginning, but to finally achieve it feels incredible.
"There are literally hundreds of incredibly talented people involved in the show, so everyone has had a part to play in its success – there's been a lot of smug TV professionals walking around London this week!"
Graduating in 2010 with a First Class Honours, Adam attributes his success to the practical skills he acquired on his course: "I'd say the Media Production course definitely gave me the knowledge I needed to hit the ground running once I graduated, particularly in the technical areas.
"Starting out, there are so many instances where you're just asked there and then to pick up a camera, or check through a kit for example, and if you don't have the confidence to just say yes then someone else will be asked – so having that knowledge helped."
Having moved to London in 2011, Adam has worked on some of the UK's top TV shows, adding the likes of the BBC, ITV2, E4 and Channel 4 to his expanding CV.
He is now Assistant Producer for the ITV company 12 Yard Productions and is currently casting for the Coach Trip. Despite working on some of the biggest shows on TV, his feet are firmly on the ground. "My main thought is that my work is all encompassing and hard work, but accompanied by a great feeling at the end of it when people say 'oh my god I love that show'.
"It's not all about the recognition though. On something like First Dates, you have to feel passionate about what you're making, otherwise why are you even doing it? I've been fortunate enough to work alongside an incredible team each time, who've made the endless hours of casting, auditioning, matchmaking and filming really fun and sometimes ridiculous."
To anyone looking to follow in his footsteps, he says "The important thing to realise is not to step out of the course and immediately think you're a producer because you've produced a short film in your third year. You have to absorb everything around you, in every role, to progress in this industry."