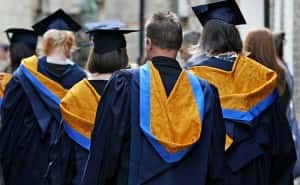 A University of Sunderland graduate who decided to go to University in his late-20s is now inspiring others to stop delaying their own higher education.
Stephen Goldsmith, 35, works in the University's access to Higher Education team promoting degree courses and providing advice for potential students at various events – including an upcoming drop-in open day at the University's City Campus on Thursday, May 5, from 11.30am – 6pm.
The Combined English Language and Linguistics with Sport graduate, said: "I always knew deep down that I wanted to go to University but always came up with reasons why I wouldn't be able to.
"When I finally decided to go for it I realised that all the fears and barriers I thought were holding me back were totally unfounded – it was an absolutely brilliant experience.
"When the job came up at the University I jumped at the chance because I really want to guide others to make the right decision – it's changed my life and now I want to help others change theirs."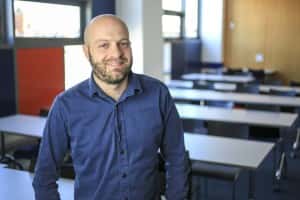 Stephen provides seven reasons why people should go to University, regardless of age, experience, or levels of qualification:
It doesn't matter if you don't have the right qualifications. Universities run several courses aimed at people that don't have the qualifications needed for degrees, including

Access Courses and Foundation Degrees

. Never think you have missed your chance to learn.
You're in for a long career – make it one you love. I changed the direction of my career into one where I could follow my dream. I now work as a freelance journalist, a football reporter for live Premier League matches, a radio presenter, and for my local University. I realised – despite me thinking I was getting on a bit – I had another 40 or so years work ahead of me, and decided that it was the right time to make a change. Job satisfaction is everything.
You will be in good company – there are lots of 'mature students' at university. At the University of Sunderland, a third of students are over 21 when they begin their degrees. You should never fear being surrounded by 18-year-olds as more and more people are returning to education to change their life or pursue their passions.
Student Finance is available – you can borrow money to pay for course fees and living costs, and you only start paying this back when you earn over £21,000 per year – and even then it is a small percentage of your wages. It's more like a tax than a debt.
Your life skills will help you in your degree. I wish that someone had told me that the skills I'd built up during my work and life would help me do well at University. They really do. From interacting with people to having a work ethic, you will want to make the most of your opportunity in education.
Support is available. I was worried about large lectures and lack of personal support, but the University of Sunderland provided me with everything I needed. Childcare provisions, counselling and financial advice are available at all universities and Sunderland has recently been named in the top 10 of Universities for provision of support.
You will be proud of yourself. Imagine the sense of achievement when you collect your degree certificate. Your family and friends will be bursting with pride, but most of all you'll be full of confidence with a fantastic sense of achievement, and the tools to make a difference.