Many families enjoyed the eventful range of fun activities last Saturday (April 30) as Active Sunderland held their annual 'BIG family fun run' in Mowbray Park.
To kick off the event, sporting activities were set up such as mini golf, yoga, swing ball, football and hula-hooping which were enjoyed from 1pm.
At 4pm the 1.5K race began followed by the longer distance of 3K shortly after.
Sunderland City Council's Head of Events, Victoria French, told SR News: "We're here as a team of individuals working at Sunderland city council to provide opportunities for people to take part in activity.
"What we say is it isn't necessarily about joining a gym or paying lots of money to be active, things like this are a great way to show families that there's a lot of opportunities in Sunderland and many of them are very affordable."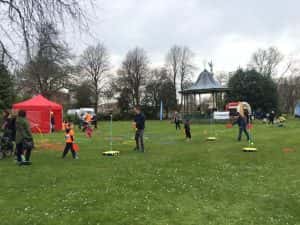 The event was an introduction to many of the running events taking place over the weekend such as the Siglion Sunderland City 10K run and the Siglion Sunderland City Half Marathon.
Sunderland stars Aly Dixon, of Team GB, and The Apprentice's Katie Bulmer-Cooke also attended the event. An uplifting warm up was hosted by Katie with the help of her daughter Heidi. When speaking to SR News about their involvement in the event, Katie explained that the two had "loved it."
SAFC mascots and Sun FM's Sunny the Seagull also joined the event.
Ashley Tuck, Active Sunderland's Development Officer, explained: "The event went really well with both adults and children enjoying the whole day."
Active Sunderland has a summer planned full of exciting opportunities of fitness events such as the BIG Bike Ride in June and the BIG Walk in September.
For more information, visit their website: http://www.sunderland.gov.uk
Did you attend the BIG Family Fun Run? Let us know by tweeting us at @SRNewsNow.
https://drive.google.com/open?id=1KbnPZTGv9Gqt2Km0OEXCwpbPSEIf32ps