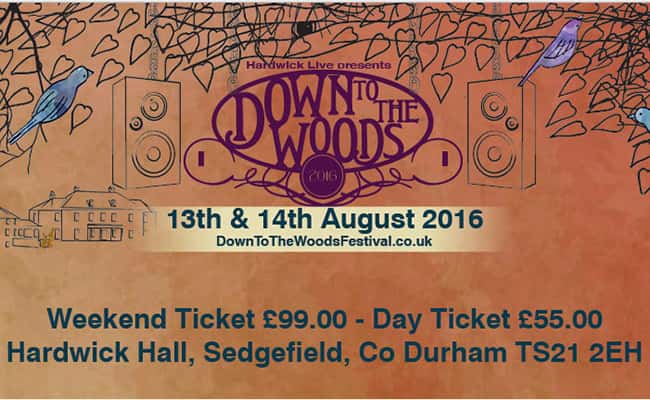 The North East's newest festival, set in County Durham, is to be one of the bangers of this summer, with multi-platinum selling duo Chase and Status and Scottish legends Primal Scream being announced as the first headliners for the two day extravaganza.
The event, which will be held at Hardwick Hall, Sedgefield on August 13 and 14, promises to put North East firmly on the festival circuit with  some of the biggest bands in British music.
Chase and Status, known for their incendiary live performances, will be downsizing from their usual 50,000 festival capacity to Down to the Woods more intimate 10,000 and are set to knock out multiple number ones with tracks like Blind Faith and End Credits on The Grand Arcadia Stage.
"Chase & Status haven't performed live in this set up for a number of years," said event organiser Jonathan Woodliffe, "so it's a massive coup for us to bag them for Down To The Woods and let our festival-goers enjoy a superb festival at an incredibly affordable price".
Scottish heroes, Primal Scream, will bring their huge back catalogue of anthems like 'Rocks'. Movin' On Up' and 'Loaded' as well as tunes from their latest album and the brilliant line up doesn't stop there. Other acts include Catfish and the Bottlemen, Echo and the Bunnymen and Radio One favourites Vant and Clean Cut Kid.
Down To The Woods' captivatingly named Foxes Folly Stage will deliver some of the very best new acts in the country, championed by headliners The Sunshine Underground and Peter Hook & The Light led by the former Joy Division and New Order frontman.
Other acts set to appear on this stage during the weekend include hotly tipped artists like Kloe, Holy Esque, Pixel Fix, Kagoule, Fronteers, White, Inheaven, Neon Waltz, No Hot Ashes, Tempesst, The Americas, The Barmines, Weekend Sun, Broken Witt Rebels, The White Negroes, exciting solo artist Joe Crookall and future County Durham hero Joe Treacy, with even more acts to be announced soon.
The line-up for a third stage, Badgers Den, will also be announced in the coming weeks, with a focus on live comedy and DJs.
Weekend tickets for the Down To The Woods, priced at £99 per adult, £28 for young people aged 13 to 16 and £15 for children aged three to 12, are available via the website http://downtothewoodsfestival.co.uk/
A number of single day tickets, priced at £55, £15 and £8 respectively are also on sale separately for Saturday and Sunday, with camping pitches starting at £30 per tent.
For more information visit downtothewoodsfestival.co.uk or search Down To The Woods on Facebook or Twitter.