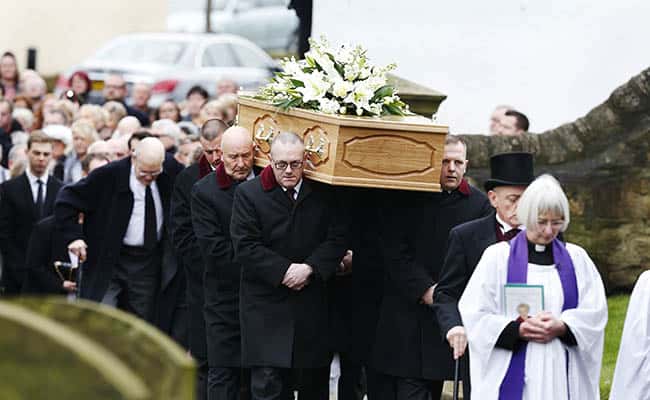 TV stars joined hundreds of family, friends and fans at the funeral of much-loved agony aunt Denise Robertson.
Applause broke out in the street outside the Minster as Denise Robertson's coffin was driven away in the hearse after the hour-long service.
This Morning presenters Phillip Schofield and Holly Willoughby, Eamonn Holmes and wife Ruth Lansgford paid emotional tributes to the 83-year-old who died of pancreatic cancer ahead of her funeral at Sunderland Minster.
Schofield wiped a tear from his eye as he spoke to mourners after the funeral.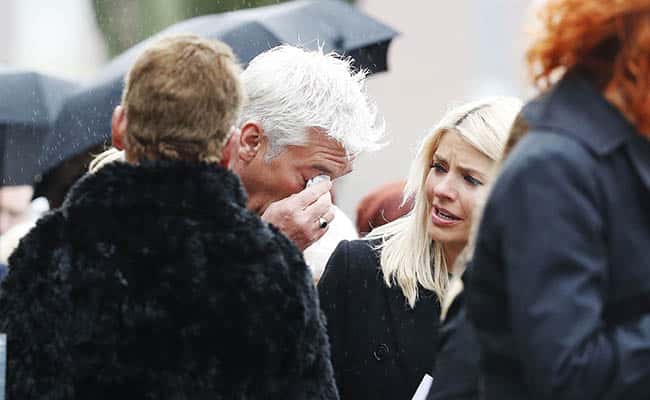 The street was packed as the hearse pulled up outside the city centre church, followed by the great-grandmother's large family.
Before the funeral, Schofield said: "She was such a kind, loving person, friend."
He talked of the emotion of seeing her photo on the wall at the ITV studio.
"We walked past it the other day and I said this feels so wrong, so strange. It's terribly emotional still in the building," he added.
Willoughby said: "This Morning is such a family show and she was the matriarch.
"It doesn't quite feel real.
"All of us need to be here to say goodbye today because she still feels very much part of the show."
Holmes said he would always remember Robertson with laughter.
Walking with crutches after his double hip replacement operation, he laughed as he recalled taking her advice to marry Ruth, to get a dog to cope with the ensuing rise in his blood pressure, and to get his hips fixed to be able to walk the pet.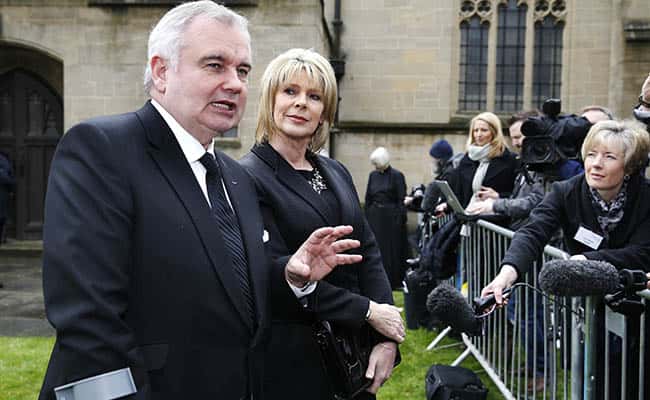 He added: "It's very difficult to believe we will go into work on Friday and she will not be there."
Langsford, paying tribute beside him outside the Minster, said: "Whenever I think of Denise I think of colour – she loved to wear bright clothes.
"I always remember her wafting down the corridors in pink, lilac, orange or purple, always fragrant.
"We shared a lot of laughs with her as well."
Holmes said: "She was a national treasure, I don't think we will see anything like that again.
"No-one can expect to have a gig for as long as she did – 28 years on one programme."
His wife added: "She had it because she was so good."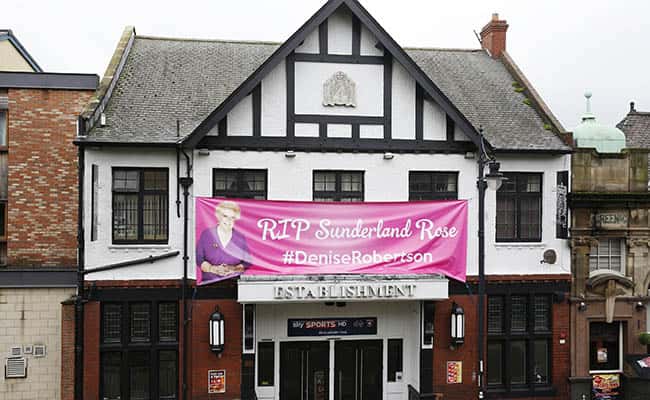 Robertson played a crucial role in the popularity of This Morning from its first broadcast in 1988.
Her warm but no-nonsense approach quickly won over fans and her popularity led to her being offered her own programme in 2000, called Dear Denise.
She made several guest appearances on other TV programmes and was a regular fixture on Channel 5's Big Brother's Bit On The Side.
She was widowed twice – losing first husband Alex to cancer in 1972 and then Jack to a stroke in 1995. She also lost her 44-year-old stepson, John, to cancer in 2006.
She was awarded an MBE a decade ago and given the Freedom of the City of Sunderland.
The service was followed by a private burial.