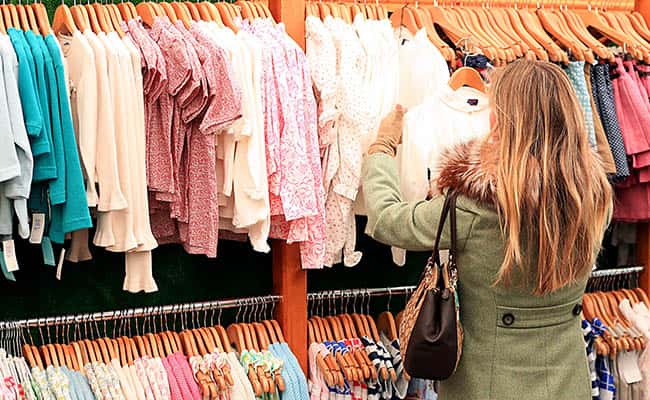 UK inflation lifted to its highest level for 15 months in March as the rising cost of clothes and air fares pushed up the cost of living.
The Office for National Statistics (ONS) said Consumer Price Index (CPI) inflation hit 0.5 per cent last month after the price of clothes rose by 1.7 per cent year on year, while passenger transport by air climbed 17.9 per cent over the same period.
The cost of flights also soared 22.9 per cent month on month, impacted by the early Easter period.
But food prices fell 3 per cent year on year last month as grocers continue to slash prices amid the ongoing supermarket price war.
Despite March's CPI rise – up from 0.3 per cent in February – inflation still remains historically low.
The Bank of England is predicting it to stay far below the Government's target of 2 per cent, which was talked about in the 2016 Budget, for some time.
Lower oil prices have also put a dampener on inflation, leaving the central bank in no hurry to raise rates above 0.5 per cent, where they have remained for nearly seven years.
ONS statistician Phil Gooding said: "After an unprecedented period of CPI being close to zero, inflation has begun to rise again.
"Dearer clothing and higher air fares, influenced by the timing of Easter, are behind the rise in CPI, which is still low by historic standards."
It comes after CPI remained at 0.3 per cent in February, the same as in January, as the falling cost of second-hand cars offset rising food prices.
The latest figures from the ONS also show the Retail Prices Index (RPI) measure of inflation rose to 1.6 per cent in March, up from 1.3 per cent in February.
The ONS said the cost of rail travel also had an upward impact on CPI last month, with fares rising this year, but falling a year ago.
It said clothing and footwear prices rose 1 per cent between February and March this year, compared with a 0.1 per cent fall a year earlier.
But it said prices of food and non-alcoholic beverages dropped by more last month, with prices falling 0.6 per cent between February and March, compared with a 0.2 per cent fall a year earlier.
The figures also showed the average price of petrol rose by 0.9 per cent between February and March to hit 102.3p per litre.
The inflation update comes ahead of the Bank of England's latest interest rate decision on Thursday, April 14.
Policymakers voted to keep interest rates on hold again last month and warned that Britain's vote on its European Union membership could hit UK economic growth.
Since then, the picture of the UK economy has worsened, with a series of Markit/CIPS surveys covering the manufacturing, construction and services sectors pointing to a slowdown in gross domestic product (GDP).
Economists predict growth will ease back to 0.4 per cent in the first quarter of this year, down from 0.6 per cent in the fourth quarter of 2015.
Concerns have also been mounting that the UK economy could be left exposed if Britain leaves the EU after its current account gap hit a record high in the fourth quarter.
The ONS revealed last month that the UK current account deficit ballooned to £32.7billion or 7 per cent of GDP, fuelling fears that Brexit could reduce the flow of foreign money into the UK economy and make the deficit harder to sustain.
March's inflation rise handed a boost to sterling, with the pound rising 0.6 per cent against the dollar to 1.43.
But while last month's better-than-expected inflation figures will be welcomed by the central bank, economists still believe it is unlikely to raise interest rates until the middle of next year.
Deloitte chief economist, Ian Stewart said: "The Bank of England can take some comfort from the fact that UK inflation has drifted up from last year's all-time lows.
"But with inflation running at a quarter of its target rate, and with economic uncertainty rife, the bank is miles away from raising rates. The bank's big problem is sustaining growth and getting inflation up."
Howard Archer, chief European and UK economist for IHS Economics, said an interest rate hike is likely to remain off the table for some time.
He also believes the Bank will shy away from relaxing monetary policy by trimming interest rates or reviving quantitative easing because the UK economy is too strong for such a move.
He added: "Consumer price inflation may well edge back in April due to a correction from March's Easter-related price increase, although much will depend on what happens with petrol prices which have risen recently amid a firming in oil prices."