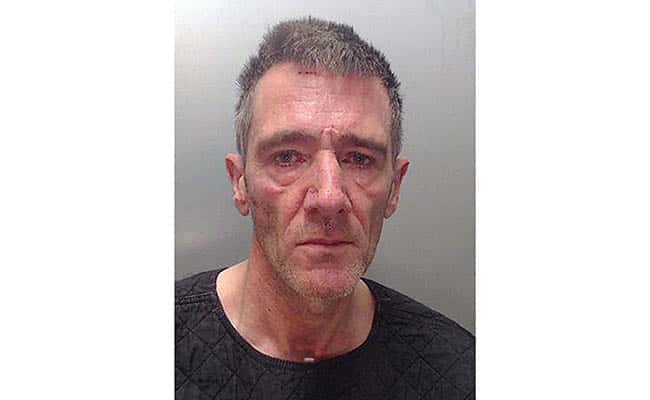 A paedophile, who kidnapped and raped an 11-year-old girl after grabbing her off the street as she walked home, was branded the "living embodiment of every parent's worst nightmare," as he was jailed.
Paul Ripley, 53, abducted the terrified youngster in Ellesmere Port, Cheshire on a winter's night last year, Chester Crown Court heard.
The girl was near her house walking from a friend's home around 7pm last November 7, when Ripley pulled up in his car, bundled her into the passenger seat and drove off.
A witness heard a girl scream and a car drive off at speed and as her frantic parents searched the streets and called police, Ripley drove the girl hundreds of miles north, before pulling into a field.
There he raped her twice then wrapped duct tape over her mouth and eyes before abandoning her in a village near Darlington, County Durham, in the early hours of the morning.
She flagged a passing taxi down, telling the driver: "I don't know where I am. I've been raped…" Police were quickly able to trace Ripley's silver Hyundai car, as it drove back south to Cheshire, arresting Ripley on the M6 in Lancashire, within hours of the attack.
The defendant's DNA was recovered from the girl and Ripley admitted two counts of rape, kidnap and dangerous driving at an earlier hearing.
Today he was given an extended sentence on licence, meaning he will serve between 10 and 16 years in jail before parole depending on an assessment of his dangerousness and be on licence under supervision for 24 years in all.
Ripley, originally from the Darlington area but living in Ellesmere Port at the time, showed no emotion as he was sentenced.
Judge Nicholas Woodward told him: "This must have been a harrowing ordeal where you specifically targeted a vulnerable child for your own sexual gratification. "Children's freedom in modern society is affected by the concern caused by people like you. You are a very dangerous man, that is to say you present a significant risk to members of the public. In short, you are the living embodiment of every parent's worst nightmare."
Police say Ripley, who had 27 previous convictions but none for anything so serious before and none for the last 13 years, has not been forensically linked to any unsolved sex attacks.
Anya Horwood, prosecuting, told the court the girl had been warned to be home by 7pm and when she did not return her parents went to search for her.
They called police after discovering she had left her friend's house hours before. At 2am, police called from County Durham to say she was alive and now safe – but had been sexually assaulted.
Fifty minutes earlier taxi driver Peter Koldoziej saw the distressed girl waving her arms running towards him, saying: "I've been raped in a car and I don't know where I am."
At Darlington Police Station she told police how she had been abducted and raped before being abandoned. She gave a description of the car and police checked motorway computer monitoring systems for any vehicles that had been in both the Ellesmere Port and Darlington areas in the previous hours, and identified a single car – Ripley's vehicle.
Around 3.40am Ripley was stopped on the M6 near Leyland, Lancashire, after hitting a police car at speed and crashing into barriers on both sides of the motorway.
He told police: "It doesn't matter, I've done it all," then refused to answer questions.
The girl is still undergoing counselling. In a statement to the court, her mother said: "I can only imagine what my daughter went through that night. The pain, confusion, panic and fear. What that man did to her that night has changed her and changed me forever. I can't and never will understand what drives a human being to do what he did. The thought is disgusting, it makes my skin crawl."
Daniel Prowse, mitigating, said the offence was "in effect out of character" as Ripley's last conviction was more than a decade ago and none for anything so serious.
He added that the defendant had suffered the, "terrible trauma of extreme neglect" during his childhood.