Pokémon is a Japanese manga, trading card game and video game series that originated in Japan in 1996. The name is derived from the term 'pocket monsters'
Pokémon, especially the trading card game, has turned into something very similar to the stock markets.  From Instagram accounts dedicated to documenting price fluctuations to Facebook groups where people buy and sell.  There have been people who have sold certain cards from their childhoods and can afford a brand-new car and sometimes even a house.
Pictured below is a collection of a few scarce cards, not just Pokémon but Yugioh too.  The picture shows an Abra, first edition, shadowless, PSA 10 card.  If you do not know what any of that means, keep reading!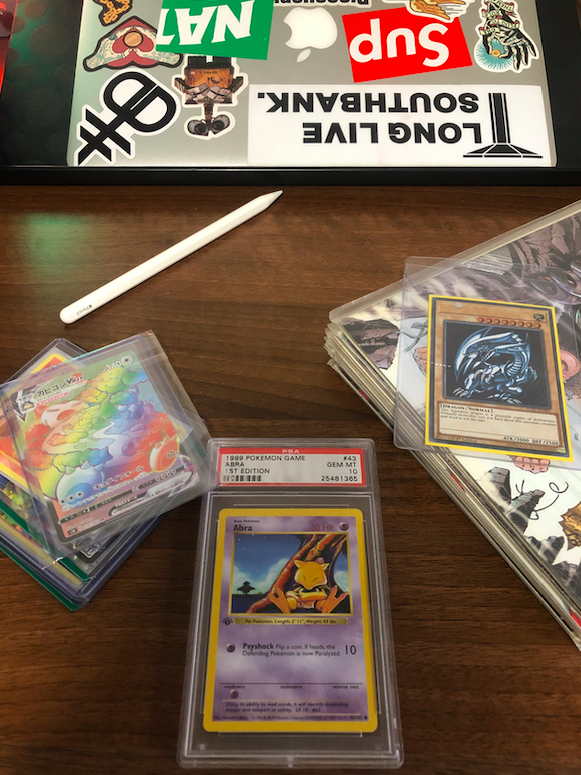 For a lot of people, the old distant collection has created a considerable amount of nostalgia.  This massive spike in prices, demand, and the overall hype has coincided with the release of two games exclusively for the Nintendo Switch, Pokémon Sword and Pokémon Shield, which were released in November of 2019.  Tyler from Swansea said his 'favourite Pokémon game is Shield' and enjoyed playing the older games on his DS.  Tyler got into collecting cards three months ago due to noticing the rarity of some of the cards he saw and owned when he was younger.
Simultaneously to the video game release, the global pandemic, Covid-19, shut many businesses and put countries into lockdown.  The added time on the publics hands, and often an increase in money due to furlough and companies closed, meant an influx of people indulged in the hobby of video game playing and trading card collecting.
Pokémon also saw a considerable rise in demand and being in the public eye back in 2016 with the release of Pokémon GO.  Pokémon GO is an augmented reality game for android and IOS devices that allowed people to go out and search for their own Pokémon.  The game quickly became the most popular mobile game ever, and the public used it as a money-making scheme, selling their accounts on eBay with very rare and hard to find Pokémon.
In an interview with a Pokémon card collector, Kieran Gash, he had spoken about how the rise in publicity and the more the cards are featured online on social media and YouTube has led him to return to the hobby.  Kieran said, 'first time around I was five or six,' he then went on to say, 'and I was 24 when I started recollecting.'  Kieran stated that friends and seeing a lot of content on YouTube got him back into collecting.
Cards can be sent away to companies such as PSA, Beckett, GMA and CGC and many more.  These companies check the card for their edges, surface, centring and corners.  Many of these companies grade differently, with some going into decimals, but each time ten is always the best grade you can get.  Sometimes, companies like Beckett and Get Graded have an almost impossible level of pristine card to get.  This, for Beckett, is a 'black label', where the label describing the card has each of the four considerations is ten, and the card is sent back to the customer with a black label attached in a plastic casing with the label inside.  These plastic casings (used for every graded card, even if it comes back as a one grade) help protect the collectable and often costly cards from damage from damp, UV rays, and bent.  Grading cards can often cause the card to go from several hundred to thousands or tens of thousands.
Tyler is on his way to completing the entire base set collection and told us in an interview that 'I started collecting vintage cards 3 months ago because I noticed how much money you can make if you keep them for a while or grade them.'  This shows that the market is just like the stock market, allowing many people to make a lot of money very quickly.
The most sought-after card is the first edition Charizard, which Kieran also mentioned was his holy grail card.  This card, which was a memory for many adults today, reached $220,574 at auction in October 2020.  The Charizard sold to rapper Logic and was graded by PSA at a ten.  Like Logic's card, which was $220,574 in 2020, the same card but this time 'Shadowless' which details the card in a lower contrast and did not have the darker outside, giving it the name of shadowless, sold at auction in 2021 for $350,100.  Again, a mint ten graded by PSA.
YouTubers such as Logan Paul as well as rappers as previously mentioned like Logic and DJs like Steve Aoki have added to and increased the market value of a lot of cards, bringing them into the light for millions of viewers worldwide and are said to have added to the hype especially for the generations that gravitate towards YouTube, primarily Logan Paul's fan base.  Logan auctioned off packs to his fans in which he has done for an opening of an old booster box; this allowed him to make over half a million-dollar profit.  Regarding these box breaks done by the wealthy YouTubers with massive followings, Kieran Gash mentioned that 'kids are seeing it and anything they see on YouTube they go crazy for, so that's caused a massive boom in the market'.  Suggesting that the spike is due to online followings is acknowledged by everyone.
Will the value of these cards go up further due to the demand and the low numbers? We can only wait and see.