A year on from the first lockdown, the struggles for those in the industry start to succumb. However, things remain uncertain for those who have graduated and aspire to grow in the industry. Chloe Vials looks into the struggles of a graduate trying to make it in the industry and a lecturer who aims to make that possible for aspiring students.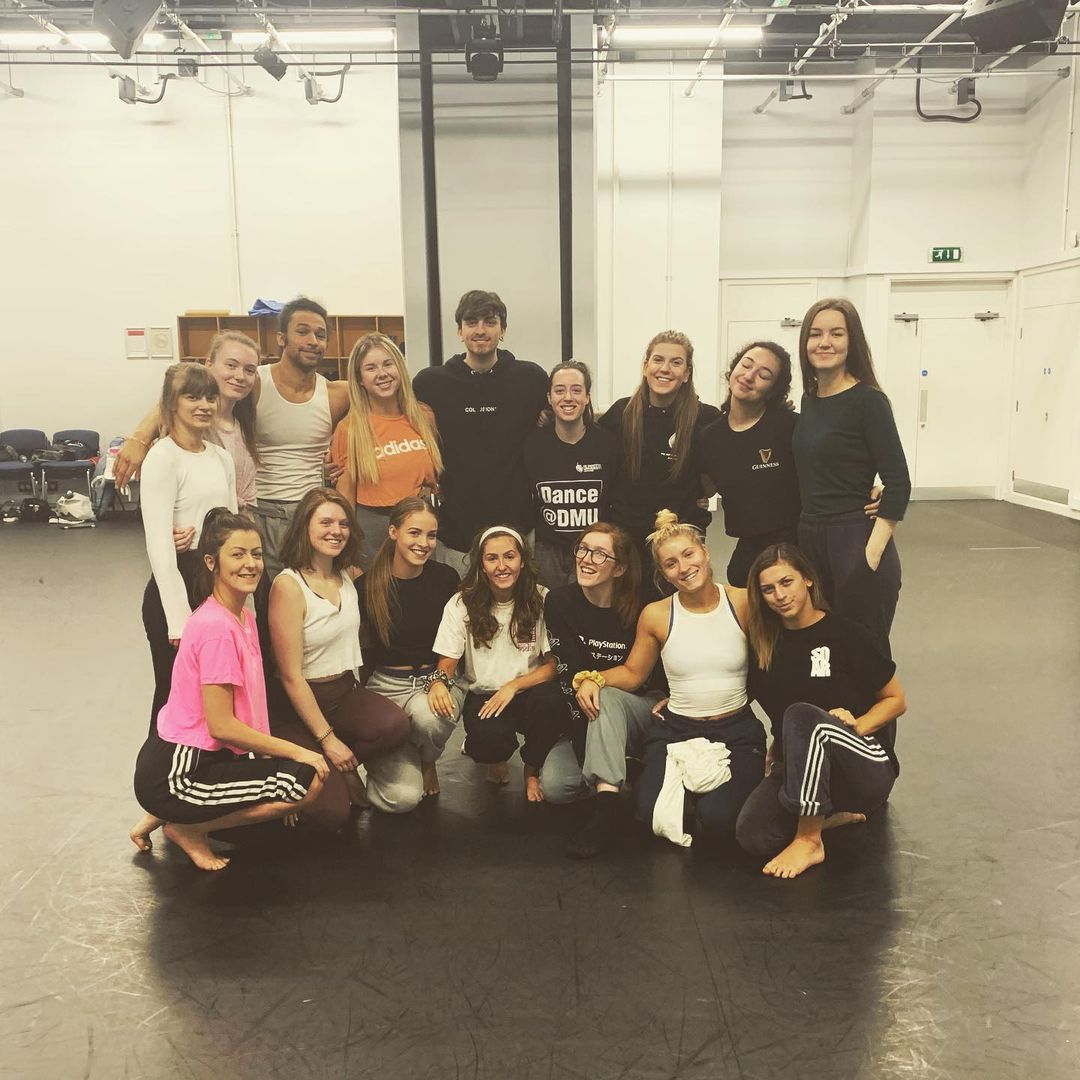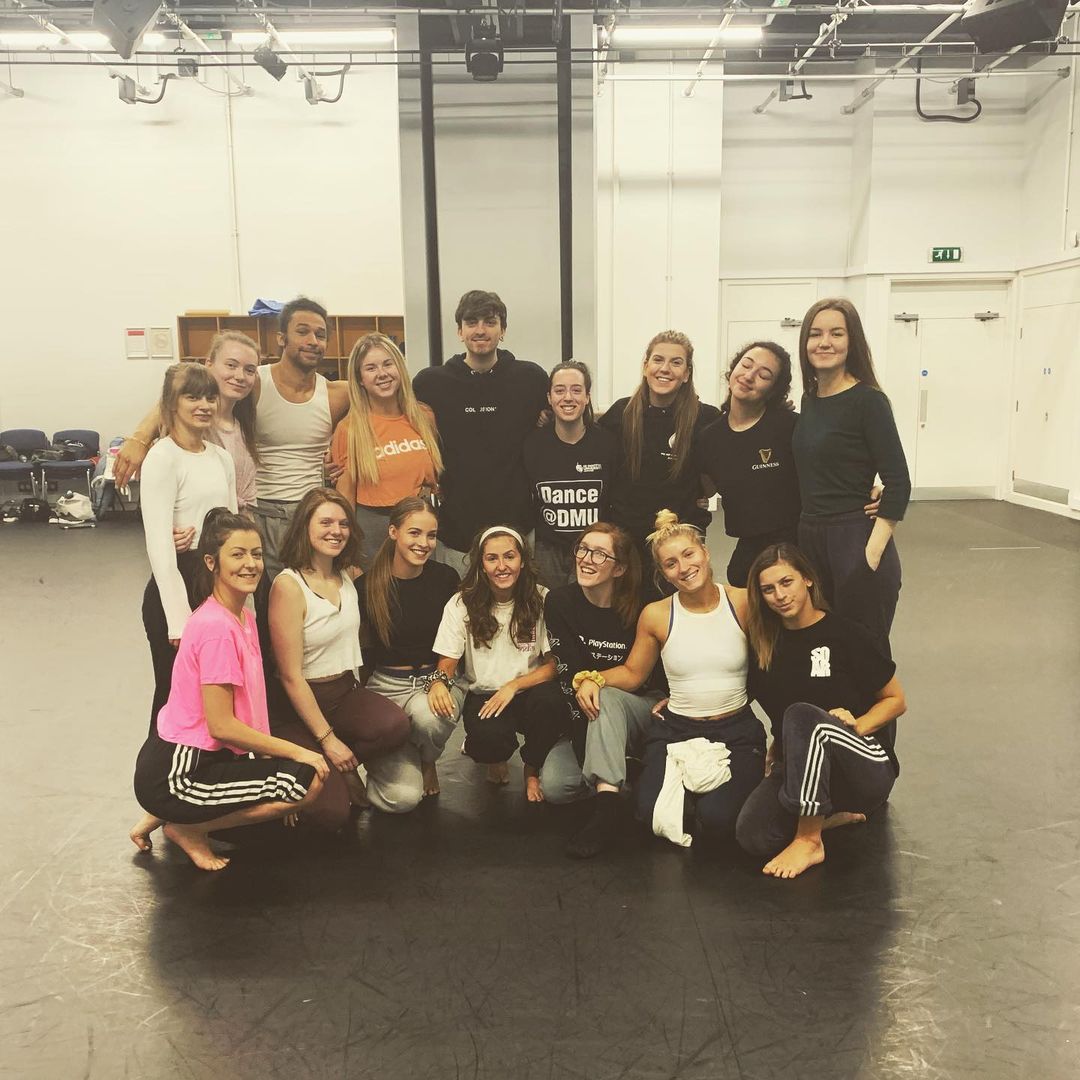 The photo above shows a group of young adults in a dance studio, somewhere that has been their heaven and hell for the last three years. Their smiling faces show the relief they feel knowing they are nearly graduating but hidden underneath are feelings of sadness, worry and fear of what is to come. This photo is the last time, unbeknown to her, that Hannah Gosling would be spending with her peers before the Covid-19 lockdown hit.
For many alike, the coronavirus has hit in ways which we would never expect. Many people disbelieved that Covid-19 would be having effects on lives over a year later. For most, life stopped, and Groundhog Day set in. Yet, life continued for students and teaching staff Despite the struggles faced—caused by the lack of support and guidance from our government.
Hannah graduated from De Montfort University in June 2020, achieving a First Class Honour, an achievement that at times looked unattainable as she finished her degree during a global pandemic. However, problems completing her degree were the least of her worries as she looked to the future in a time that was so uncertain. "The plan, while I was in my last semester, was to move home, start teaching, establish myself at home, and then pop up to University when I had to go, so that I was established before I fully moved home. Then I could jump straight in and go for it." She said.
Despite her best efforts to be hopeful for a positive outcome, Hannah found herself out of education and jobless. Knowing that her chances to go into the arts at this point were slim to none, she got a job on the 119 services helping over the covid period.
Thousands of students, like Hannah, found themselves in the same situation. Many of them feeling a lack of support from the government, especially those in the arts. The government, in October 2020, made a statement that those in the arts industry should 'retrain'. People already in the industry thought this was ludicrous and have held on to hope that things should improve, and hopefully soon.
Hannah is currently working in Asda, a job that, although she is grateful for, is far from what she aspires to do. However, she has managed to get a foot in by volunteering to teach Dance, Drama and Singing to children via Zoom in her hometown of Gosport. Hopefully, with a possibility to become something more in the future. With a First Class dance degree and many years of experience in dance, including in Ballroom and Latin, Hannah aims for something more. "so, the plan is just to continue as I'm going at the moment with teaching, and hopefully build my kind of brand as, as a teacher."
What does the future hold for the arts?
Hannah's time in education has ended, but other aspiring artists continue to follow their dreams, even though the support is not always behind them. Hannah believes if covid has taught us anything, it is not to give up but always be aware that things can change.
"Don't just put yourself down one path; always make sure you've got options. If you want to go into the arts purely, don't just be a dancer, don't just be a singer, you've got to be well rounded and also have the opinion that you can't just be a performer, even if that's your, your end goal." She said, "You need to think what other jobs around that, 'how can I use my opportunities to try and delve into each kind of job role'."
Is this something that we should be drilling into the minds of future performers, musicians etc.?
Though we know that students have had it hard, it is difficult to imagine how lecturers have taught the arts. The struggles that they have overcome over the years differ from those of the student. While dealing with their problem, both professionally and personally, lecturers have had to support and teach in a way that could be deemed impossible.
Senior Lecturer of Drama and Performing arts at the University of Sunderland, Adelle Hulsmeier, found teaching challenging at times. 
 "Teaching drastically changed, moving from hybrid to completely online delivery. Finding ways to deliver performing arts and screen performance online has also been challenging as the nature of the industry is that training is more beneficial face to face." She explained.
"However, most people in a teaching position of the arts, a primary concern, affect the future for students who aspire to go into the arts." 
Advice Adelle would give to those still pushing for success is: "know that, despite stigma and challenges, their passion for the work will always supersede lack of support and negativity. Even in a challenging pandemic, we have future performers tackling head-on the challenges of moving from face to face to online and spearheading the future of the industry."
Watch Megan Roberts, a first-year performing arts student, talk about her struggles faced over the year and how lockdown has not changed her passion.