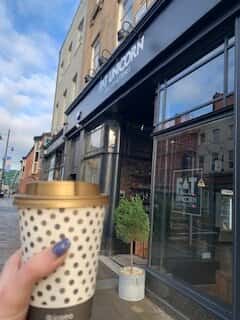 LOCKDOWN in England is potentially set to ease from March 8, with reports that people can meet for an outdoor  'coffee and picnic' with their household or one other person on a one-to-one basis.
According to the Telegraph, a senior Government source has confirmed these changes, although it has not yet been officially announced yet.
For Sunderland business owners, this could mean a surge in customers.
Hayley Dobbing, owner of The Hideout Coffee House, in Seaburn, said the limited takeout services has been hard over the winter.
She said: "There's definitely a lot more people out and about.
"Due to the weather and where we are on the promenade it can be difficult. It's all depending on the weather because we don't have that facility at the minute.
However, she believes that the policy will lead to an increase of consumers.
"A lot of people are missing that interaction with their friends and family so I think it's an excuse for them to meet up and have a coffee outside," she said.
Sue Parkin, owner of Sue's Café in Seaburn, also believes the policy could encourage more consumers but that lockdown has meant the café has more support from locals.
She said: "If more people come out, that's better but at the moment because of the service we provide, we've been quite busy.
"We've just plodded on and do what we do. People have been walking around more because they're stuck in the area.
"We're a family run business and they're now supporting us."
Fat Unicorn owner, Amanda Larson, whose business opened during lockdown said it may not directly affect those in the city centre.
She said: "Lockdown gave us a push to open our own business but it has been quite difficult because you don't have the foot fall," she said.
"I think it will encourage more people [to go out] we're on the fence for what it will mean for us because we're right in the city centre and people who are meeting up for walks are sticking to the coastlines, somewhere a bit more scenic.
She added: "We do think we will pick up more, we do takeaway coffees, we do things that will increase in trade."
As well as coffee shops and picnics, there is high expectation that schools will re-open March 8.
Prime Minister Boris Johnson is set to address the nation on February 22.